Wilkinson joins Endura for 2010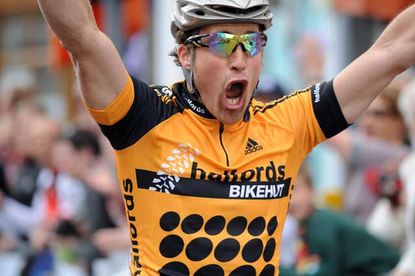 Ian Wilkinson has signed for the British Endura Racing team for 2010, joining former Halfords team-mate Rob Hayles at the squad.
All-rounder Wilkinson had a successful 2009 season, scoring wins at the CiCLE Classic, National Circut Series and Tour Series. Wilkinson also had a spell in the leader's jersey of the FBD Insurance Ras in Ireland in May after winning stage two of the race.
"I'm really pleased to be joining Rob on this team," said Wilkinson.
"I've heard quite a lot about it in the last few months and it seems to be a really exciting squad that has been assembled."
"My 2010 racing plans haven't been finalised as yet and I am looking forward to getting my head together with Rob to see what pain we can bring to the British peloton again next year. I am more motivated now as at anytime in my racing career!"
Along with team captain Hayles and Wilkinson, Endura has already signed the talents of 2009 Scottish Champion Ross Creber and 2009 Welsh road champ Rob Partridge.
Related links
Ras stage win and yellow jersey for Wilkinson
Wilkinson wins in Warwick
Wilkinson wins Tour Series round in Peterborough
2009 CiCLE Classic review
Thank you for reading 5 articles this month* Join now for unlimited access
Enjoy your first month for just £1 / $1 / €1
*Read 5 free articles per month without a subscription
Join now for unlimited access
Try first month for just £1 / $1 / €1