Win a seat in the Vittoria Servizio Corse car at the 2016 Women's Tour
PLUS, win a pair of Vittoria Corsa G+ tyres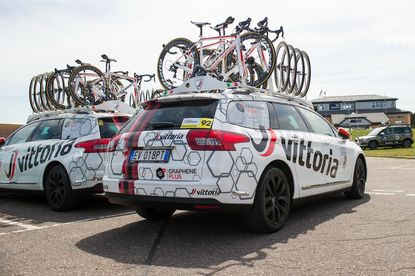 Vittoria, the world's leading manufacturer of bicycle tyres, is offering one lucky person the chance to ride in the Vittoria Servizio Corse neutral service car at this year's Women's Tour. The winner will also receive two VIP tickets for the start and finish of the stage to give to friends or family.
The prize, which will be for stage five of the race from Kettering to Northampton on June 19, is a 'one way ticket', meaning you'll need your fellow VIP to collect you from the finish in Northampton.
They will be able to drop you off at the start and watch the race from the VIP area, before driving on the off-course to the finish where they can watch from the VIP grandstand. They will all receive a 'goody bag' from Vittoria from the Vittoria gazebo in the promo area at the finish.
And that's not all of it, as you'll also get a pair of Vittoria Corsa G+ clincher tyres (700x25mm) as well as this 'money can't buy' opportunity to get right in the thick of the race.
To be in with a chance of winning this extraordinary prize, all you need to do is like this post on the Cycling Weekly Facebook page, like the official Vittoria Facebook page, and follow Vittoria on twitter @vittoriatyresuk.
You can find the link here to the post.
Thank you for reading 20 articles this month* Join now for unlimited access
Enjoy your first month for just £1 / $1 / €1
*Read 5 free articles per month without a subscription
Join now for unlimited access
Try first month for just £1 / $1 / €1