Work begins on London segregated Cycle Superhighway
London's Cycle Superhighway 2 will see the majority of the route between Aldgate and Bow Roundabout completely segregated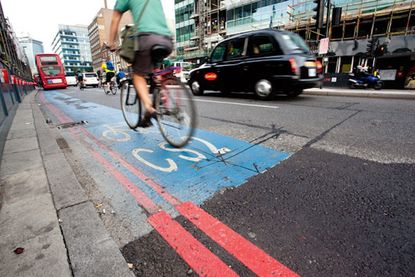 Work has begun on the pioneering Cycle Superhighway 2 in London, with a stretch between Aldgate and Bow Roundabout the first to see improvements.
Eleven new cycle-priority junctions will be installed along the route, which takes in Aldgate East, Mile End and Whitechapel, some of the most dangerous parts of London to cycle.
Transport for London says the majority of the route will be fully segregated, while the parts too narrow for segregation will be marked by highly-visible traffic wands.
>>> Superhighways, Crossrail and Quietways: A complete guide to London cycleways
The Mayor of London, Boris Johnson, said: "We know there was overwhelming support to overhaul Cycle Superhighway 2 and now it is full steam ahead to do exactly that.
"The plans we're delivering will make this route safer for cyclists by giving them more space on the road and away from traffic. With record numbers cycling in the capital we're pulling out all the stops to deliver world class infrastructure that everyone in our city can be proud of."
>>> London taxi drivers consider legal challenge to superhighway plans
Meanwhile, TfL has launched a consultation on a new 11km stretch of CS1, running between Tottenham and the City of London, which takes in the quiet back streets parallel to the A10.
Leon Daniels, Managing Director of Surface Transport at TfL, said: "Cycling in London has more than doubled in the last decade. However, many existing and potential cyclists are not aware of direct cycle routes along quieter streets, such as the route that CS1 would follow. These plans will provide a clear and safe cycling route into central London, as well as see the major transformation of the 'Apex Junction'.
Thank you for reading 20 articles this month* Join now for unlimited access
Enjoy your first month for just £1 / $1 / €1
*Read 5 free articles per month without a subscription
Join now for unlimited access
Try first month for just £1 / $1 / €1