London taxi drivers consider legal challenge to superhighway plans
Infrastructure plans could rest with Boris Johnson's successor as mayor if judicial review causes delays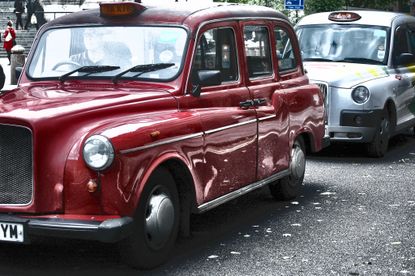 The London Taxi Drivers Association (LTDA) could mire London's Cycle Superhighways scheme in delays by launching a judicial review over Transport for London's (TfL) consultation process.
The LTDA, which represents the interests of black cab drivers, says it is considering a legal challenge following yesterday's announcement of the final plans for two major segregated cycle routes criss-crossing central London, which will reallocate traffic lanes to cycle tracks.
>>> What are Cycle Superhighways?
While the LTDA claims the East-West cycle superhighway will cause gridlock, both TfL and campaigners say the consequences will be worse if more people don't get out of cars and public transport and on their bikes.
Although it is believed the LTDA won't ultimately succeed, the delays could push superhighway plans into the next mayoral term, at which point they will be at the mercy of the next incumbent at City Hall.
Rosie Downes, Campaign Manager for the London Cycling Campaign, said: "If anybody were to launch a judicial review it would be on how the consultation was handled. We don't think they would have any grounds, but it could hold up the process. If it pushes outside of Boris's mayoralty term then it will be up to Boris's successor."
Downes said TfL extended the original consultation period and she believes they consulted with more than 100 stakeholders, reducing the likely grounds for a judicial review.
However, she added TfL's pessimistic traffic modelling has played into the situation by "predicting delays that don't materialise".
"I think there is a danger that when modelling predicts delays of 16 minutes, and there are claims that London is going to grind to a halt, that is based on data that is not always accurate," she said.
"What we should focus on is that London is predicted to grind to a halt if we don't do it. Sir Peter Hendy [TfL's transport chief] predicted riots if we don't do anything about the public transport system. This is a way of tackling that congestion and opening up cycling for the hundreds of thousands of people who want to take up cycling and are too afraid to do so."
In what is being branded a "typical bikelash" the LTDA said in a tweet that "the cycling minority are very over represented" in London.
The LTDA is very much in the minority in its opposition to the cycle superhighways, with 170 London employers publically supporting them, including Unilever, Orange and Coca-Cola, major NHS trusts and universities.
Taxi rival Uber voiced its support of cyclists yesterday.
The Mayor, Boris Johnson, said yesterday: "We have done one of the biggest consultation exercises in TfL's history. We have listened, and now we will act. Overwhelmingly, Londoners wanted these routes, and wanted them delivered to the high standard we promised. I intend to keep that promise.
"But I have also listened to those concerned about the east-west route's impact on traffic. Thanks to the skill of TfL's engineers and traffic managers, we have made changes to our original plans which keep the segregated cycle track and junctions, while taking out much less of the route's motor traffic capacity – and so causing much shorter delays."
New designs for the East-West cycle superhighway, dubbed the Cycle Crossrail, were amended to reduce cycle lane width from 4m to 3m in places, removing one lane of traffic as opposed to the original two. Yesterday morning plans were due for final board approval on 4 February, with spades in the ground from March.
Thank you for reading 10 articles this month* Join now for unlimited access
Enjoy your first month for just £1 / $1 / €1
*Read 5 free articles per month without a subscription
Join now for unlimited access
Try first month for just £1 / $1 / €1