World-renowned cycling photographer Graham Watson announces retirement
After four decades of capturing some of the most memorable images from the world of professional cycling, Graham Watson has retired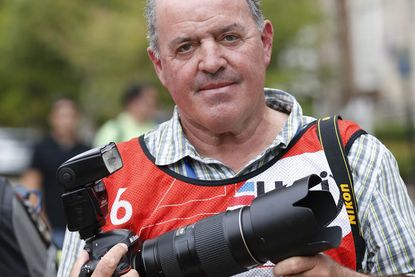 (Image credit: Yuzuru Sunada)
If you follow professional cycling, the chances are that you have seen hundreds of photographs taken by Graham Watson. Many of Watson's photographs have become iconic, defining images of the sport.
Now, though, Watson has announced that he has retired after 45 years behind the lens, and 38 years travelling the world capturing images from the Tour de France, Paris-Roubaix, Giro d'Italia, Olympic Games and so, so many more.
"I am no longer a cycling photographer," Watson wrote on his website on Wednesday morning.
"If you want, you can now refer to me as a ex-cycling photographer or as a former cycling photographer. Yes, after almost 45 years as a professional photographer and 38 years of that as a cycling photographer I am retiring – my last race was the Tour Down Under in January."
At the age of 60, Watson has called it a day and plans to enjoy his life after cycling – although he says that he may now ride a bike, rather than take photographs of other people riding bikes.
"By stopping at 60 I also have the chance to discover other things in life, or at the very least get out on my bike more and maybe climb a few of the mountains I've photographed for so long.
>>> Graham Watson's 2017 cycling calendar on sale now
"I have reasoned with myself that retirement is the biggest milestone a human being reaches, beyond getting married or buying one's first home. So this was not a casual, easy decision to make nor carry out. Yet here I am, one day into retirement, sitting on our deck overlooking the Tasman Bay in Nelson, New Zealand, a glass of locally-produced Sauvignon Blanc in my hand, totally at peace with my new lifestyle."
Watson's shot of Eddy Merckx on the Champs Élysées in the 1977 Tour de France won a photo competition in Cycling magazine - the forerunner of Cycling Weekly. His image caught people's attention, and it launched a career spanning the late 70s, 80s, 90s, 2000s and into the 2010s.
He has had his images published in pretty much every major cycling magazine, and beyond, including Cycling Weekly, Cycle Sport, Winning, VeloNews, Bicycling, RIDE Review, Ciclismo a Fondo, Pro Cycling, Favoriet, Wieler Revue and Tour.
Watson says that he will inevitably miss his former career, but perhaps not as much as people may think.
"Now, the big question – will I miss this fantastic, crazy, wonderful sport and its unique lifestyle? Yes, for sure, though I've yet to know which parts I'll miss the most. I will miss the races, but not all of them."
He continued: "I won't miss the Tour as much as people might think– it's become a claustrophobic colossus that is not always as enjoyable as I'd like, even though it dwarfs all other Grand Tours."
Watson's career has spanned a great change in photography, moving from the world of film, transparencies and print to digital images and the internet.
However, one thing has remained a constant: the great performances of the cyclists. Watson says that Sean Kelly, Bradley Wiggins, Laurent Fignon, Jan Ullrich, Lance Armstrong and Pedro Delgado were among his favourite riders to photograph.
"None of this would have been possible had so many cyclists not done what they did and made my job that much more pleasurable and memorable. You'll all be sorely missed."
There's no doubt that Graham Watson's work will be missed, too. Everyone at Cycling Weekly wishes Graham a happy, long and well-deserved retirement.
Thank you for reading 20 articles this month* Join now for unlimited access
Enjoy your first month for just £1 / $1 / €1
*Read 5 free articles per month without a subscription
Join now for unlimited access
Try first month for just £1 / $1 / €1