Petition swells for Wye Valley cycle path
Sustrans is campaigning for a disused railway line on the English-Welsh border to be turned into a cycle path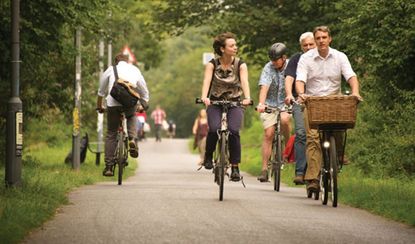 A plan for a cycle path along a disused railway line that was first proposed in 2010 is gathering further support after years in limbo.
The £750,000 scheme to build a path through the Wye Valley in Chepstow on the English-Welsh border was submitted by Sustrans to the Monmouthshire Council and Forest of Dean District Council four years ago to provide a traffic-free route for cyclists and pedestrians. However, planning issues meant that the scheme fell by the wayside and the National Lottery money was allocated to other projects.
But there remains a strong will for the path that will connect Newport to Chepstow via a footbridge over the River Wye that would meet the proposed Tintern Path.
A recent meeting with Monmouthshire Council was positive with the council saying that the path will "alleviate the congestion by encouraging free use of these properly designed paths".
A petition (opens in new tab) asking for the councils to jointly grant planning permission for the path has exceeded 2,500 signatures. It says: "There are no cycle paths through Chepstow while everywhere else benefits.
"Despite all the Bills, Papers, and Consultations you pass and now 'The Wales We Want' campaign, we are ignored.
"This path would enable less able bodied people to access the beauty of the Wye Valley, it would provide business and opportunities locally, and hold these opportunities within Chepstow and surrounding villages where presently people go further afield for leisure facilities."
Credit: Google Maps
Improvements to be made to Cambridge's cycling infrastructure despite city council's 'difficult financial situation'
Row breaks out as city council claims infrastructure projects are being blocked
Thank you for reading 5 articles this month* Join now for unlimited access
Enjoy your first month for just £1 / $1 / €1
*Read 5 free articles per month without a subscription
Join now for unlimited access
Try first month for just £1 / $1 / €1