'You can't just force disc brakes through'
Pro road riders' union wants to stop the current trial of disc brakes in the peloton as some safety concerns have not been addressed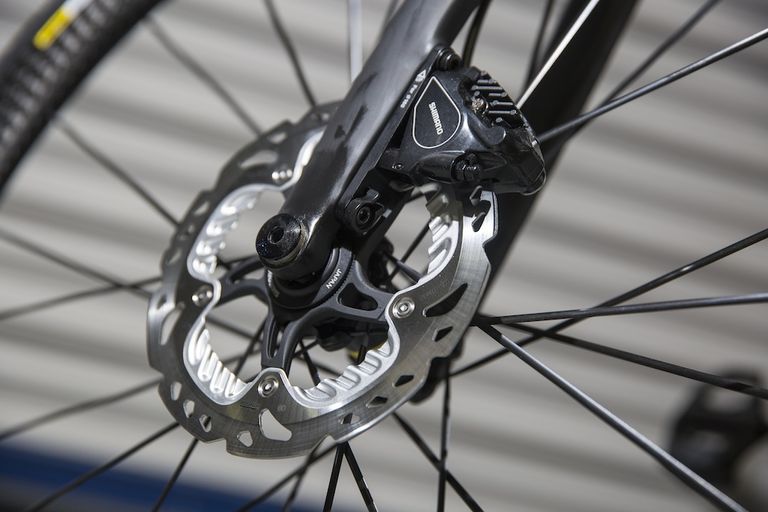 Professional road cyclists want trials of disc brakes in races to stop because their safety concerns have not been addressed, says rider union, the CPA. The union sent a letter to the UCI saying that it would consider a trial in which all riders use discs at a later date.
The UCI allowed the riders to freely decide to use disc or traditional caliper brakes for the start of this 2017 season. Immediately in January, Tom Boonen (Quick-Step Floors) became the first professional to win on disc brakes in Argentina's Tour de San Juan. His team-mate Marcel Kittel won the Dubai Tour on them, as well.
The season and confusion continues in the Middle East. Boonen appears to be the only one not using the traditional caliper brakes in the Tour of Oman that began today.
>>> Is heat build-up in disc brakes something to worry about?
"You can't just force disc brakes through," American Tyler Farrar (Dimension Data) told Cycling Weekly.
The wind blew the hot air over the Al Sawadi Beach towards the cars where mechanics made last-minute adjustments to their teams' bikes.
"The argument is that you can't pay lip service to our concerns and go ahead as you want to. That's not the way it works."
Disc brakes stop bikes quickly, but their induction heated the professional peloton. After a short trial in 2015, teams began racing on them in 2016. Soon after, Francisco Ventoso (then racing for team Movistar) fell onto an unknown rival's bike in Paris-Roubaix. He suffered a deep muscle cut to his left leg and blamed his rival's rotor.
Under fire, the UCI prohibited disc brakes. With the CPA weighing in, it asked manufacturers to re-design rotors. There were talks of protective shields, but the new guidelines said that the rotors needed to be round instead of jagged and smooth on their edges.
"We expressed our concerns and came to an agreement if they are going to re-start the trial, but they only addressed one of those concerns," Farrar added. "They rounded the edges, but there are still no shields.
"We are not against implementing them, it just needs to be done with us as partners and not as tools. We want these issues addressed before someone gets his leg flayed open again like Ventoso last year or before someone has a permanent scar from a burn on his leg."
Another issue involves the braking differences between disc and caliper brakes. Having some cyclists on discs in the peloton could cause crashes because the discs brake faster and the riders can leave it until later to begin to brake compared to those with calipers.
>>> Disc brakes now safe? Pro posts video to try and make you think again
The CPA said that it agrees for a re-introduction then it would want everyone using disc brakes in certain trail races.
"In a race like this with a flat day and no major descent or rain, it's probably fine," Larry Warbasse (Aqua Blue Sport) said. "They are probably going to have to put something in place where it is all or nothing because otherwise when you get to a race with inclement conditions and it is going to be dangerous.
"I support the CPA, they took the survey of all the riders. [Over 600 riders voted to stop the trial - ed.] It was pretty much unanimous that the way they are doing the trial is not good.
"They didn't listen to the demands of the riders to put a few safety rules in place and since they didn't listen to that, I don't think we should be having the disc trial."
>>> Disc brakes a 'strong improvement' says Marcel Kittel, as he prepares to race on them at Dubai Tour
Matthew Brammeier (Aqua Blue Sport) said that the braking difference is not an issue because there are always going to be inconsistencies given that some riders are heavier than others.
"I definitely think we need covers and rounded rotors. It needs to happen," Brammeier explained.
"It's the same about race radios, no one really cared that we didn't use race radios, but it was that something was being forced on us. It's again the same deal, we are not involved in the decision making.
"They are listening, but the whole communication is not clear. No one knows what is going on with the trial and when these things are going to be implemented. The rounded rotors and the guards, we don't know."
The UCI replied to the CPA to say it received the letter and that it would issue a formal response soon.