Leaked document outlines new system for top-level professional cycle racing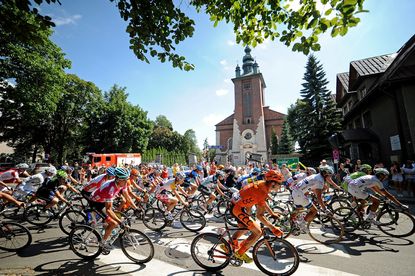 Cycling will undergo major changes starting with the 2015 season, according to leaked documents.
This morning, Italian website Ciclo Web published a PDF called La Réforme du Cyclisme Professionnel that cycling's governing body reportedly produced with several stakeholders. It reveals plans for smaller teams and less racing in a calendar without the Tour of Britain.
The plan, according to the PDF, is to introduce changes starting with the 2015 season and continue rolling them out through 2020. The new WorldTour or top-tier calendar would shrink to 120 days and not see any overlapping events. This is currently the case in the WorldTour, which schedules Paris-Nice and Tirreno-Adriatico at the same time.
The new top- and second-tier system, which truly takes hold in 2017, lacks the Tour of Britain and US races. The Eneco Tour and the Tour of Poland drop to the second tier, where Germany's Bayern Rundfahrt sits alongside events like the Tour of the Basque Country and Romandy.
The teams competing in the coming years will take a different, smaller shape. Instead of 18, 16 teams of 22 riders will race in the first division. The eight second division teams will feature 22 riders, as well, while the third division teams will be made up of eight to 10 riders.
Like in the current system, the first division teams must compete in all the top races, all 120 days that includes the three Grand Tours. They may compete in the lower-ranked races and as with today, the second division teams may race as wildcard in the top events.
To make sure there is no overlap in the schedule, the working group nixed some races and reduced the others. While the Grand Tours stay grand at three weeks, other stage races - Tirreno-Adriatico, Paris-Nice, Switzerland, Dauphiné - run over six days. Also, instead of January, racing begins in February with the five-day Tour Down Under.
The working group, of course, includes the governing body, the Union Cycliste Internationale (UCI). It worked together with major race organisers - ASO, RCS Sport and Flanders Classics - and teams' and riders' groups, the AIGCP and the CPA. And like any group, its options and plans may change before this leaked document becomes reality. However, the PDF gives an idea of where cycling is going in the next six years.
Thank you for reading 20 articles this month* Join now for unlimited access
Enjoy your first month for just £1 / $1 / €1
*Read 5 free articles per month without a subscription
Join now for unlimited access
Try first month for just £1 / $1 / €1