Little sleep, pace partners and Haribo. How Ross Duncan rode 5,000 miles in one month
Ross Duncan set himself the challenge of riding 5,000 miles in January, eventually hitting the target with minutes to spare.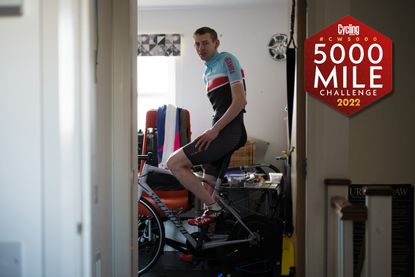 (Image credit: Future James Robertson)
It's ten to midnight on a Monday night when Ross Duncan finally steps off his bike. He hasn't slept since Sunday morning and since Saturday morning has ridden 952 miles on Zwift.
"I was commuting to work on Friday and doing the maths in my head, thinking; 'right, I've got Saturday and Sunday then I have to work on Monday, and I've got so many kilometres to do.'"
As he rode into his office in Edinburgh, his calculations were focused on getting his mileage to 5,000 by the end of January. And there wasn't long to go. "I got home and thought I'd do a 24hr bike ride. Then I changed my mind." Instead he did three solid days of riding.
>>>> Sign up to the CW5000 and see how far you can ride
On Saturday morning at six o'clock he climbed on to his Specialized that's permanently fixed to his Tacx Neo trainer in a spare room and started riding. Back and forth through Zwift's pan flat desert plains, he rode almost solidly for 15 hrs, clocking up 369 miles. His Strava data shows just three dips in speed and cadence when he got off his bike to take breaks.
His goal of riding 5,000 miles in 31 days meant he needed to cover 162 miles each day, all while working, and having to be on call over some weekends. But coming into the final weekend he was behind schedule and needed three big days of riding to reach his target. His mammoth Saturday ride finished around 9.30pm and he went to bed knowing he had to do it all over again the following day.
His Strava activities history shows 376 miles registered on Sunday, January 30, again all on the same route. Another 15hrs 30 mins of riding. Didn't he get bored? We asked. "I had documentaries on. I've got Zwift on my desktop, the comp app on my phone or an ipad and on another ipad I've got youtube or GCN racing on the go."
Duncan's Zwifting set up
From bespoke training rooms with projector screens and free weights to bikes squeezed in to spare bedrooms, there are many different options when it comes to setting up your indoor training space. Duncan has a Specialized sat permanently on his Tacx Neo smart turbo trainer with one simple modification.
"It has no handlebar tape." He explains. "The salt and sweat goes into your bar tape and starts eating into the handlebars. Without the bar tape the sweat will evaporate, you'll get a bit, but not as much, and you'll save your bars."
"If you've got internally routed cables you don't need it anyway." He also uses Sweat Protect from Muc Off. "I've taken my stem and spacers off and put that on. So you don't get the sweat inside your headset and destroy the bearings."
Other than that, his set up is nothing special, although he's got all the tech you'd expect from an IT engineer along with plenty of easy energy in easy reach. "I think I burnt through 100,000 calories over about 230hrs."
"I've always used Science in Sport stuff with extra vitamins. That was one way to make sure I wasn't ill. That and Haribo. Although I ate a lot less Haribo than normal. I used different calorie sources, not eating the same thing all the time. If you do get bored of it, and if you get bored of it you don't want to eat it."
With so much of his riding on Zwift Duncan was able to keep the pace high by using the training platform's pace partners, his choice being Coco Cadence. For those not familiar with Zwift, the pace partners are four bots set to ride at a permanent pace.
Their glowing, translucent avatars appear on the screen as they permanently circle routes in Watopia allowing users to join them and form a group. Within this group you can take advantage of the drafting algorithm. The bigger the group, the easier it is to sit in and get dragged along at a good, consistent speed.
Coco rides at 165w, or 2.5w/kg. There are two other pace partners that go even quicker. "I knew it was 260km a day I needed," he says of when he first started out, "so thought I'd do 130km in the morning and 130km in the evening as I was missing the whole middle part of the day due to work."
At first he joined races, thinking this was the best way to quickly cover the miles he needed, but he soon discovered this wasn't working. "I joined crits but that just slowed me down, because you're spending an extra five minutes joining a new race and waiting for it to start."
Whenever you join a race on the platform you sit in a pen waiting for the start. Even if you're pedalling you're not logging any miles on the platform. "Those extra five minutes all added up".
Plus, those cohesive groups help with the monotony "The beauty is you can join Coco and ride with other people. I now know people in the US, in Australia, in the UK…. There's people all around the world on Zwift at any time, so you can always have a conversation with them."
Duncan's motivation was threefold. His target was plugging Doddie Aid (although he's saving his bigger fundraising efforts for an as unyet announced record attempt later in the year), he would set a new CW5000 finishers record - he was first to complete the challenge in 2020 in early April, but three riders completed it quicker than him in 2021 - and top Strava's January cycling distance challenge leaderboard, becoming the first person to beat Keith Roy for many a month.
For that last goal he decided to keep his numbers to himself until the end.
Each month Strava users can join their monthly mileage challenge that asks users how far they can ride in a month. Like the CW5000, the challenge accepts virtual miles, unsurprisingly the top of the leaderboard of more than 248,000 riders is full of riders on Zwift. American Keith Roy is regularly at the top of the challenge each month, and often by some way.
"My profile is usually private and I had to make it public [to appear on the leaderboard], when I did I went into second place." His final weekend of riding put him at the top by just 17.3km. "Keith Roy has not been beaten for a long time." The rider in third place was 1,400km further back.
Not that Duncan is any stranger to big riding challenges himself. In 2020 he Everested 14 times in 14 days and in 2019 he completed an indoor 1,342 mile ride over 96hrs, with breaks, to complete Zwift's climbing challenge that unlocks their glowing 'Tron' bike for anyone who gains 50,000 metres of vertical ascent.
So having done two huge, 15hr rides over the weekend he had just one more day to hit the target. But by now he was used to the routine. Throughout the month he'd been finishing rides at midnight, eating and then going to bed around 1am before getting up around 4.30 - 5.am.
Two hours in the morning, starting at 4.52 am, saw him cover 46 miles, leaving him 95 miles to finish after work. He was back on his turbo trainer at 4.51pm, once again chasing Coco Cadence around Watopia.
But he wasn't just after the CW5000 record - which he had until February 24 to complete - he wanted to top that Strava leaderboard, so he carried on to ride 151 miles, stopping just before midnight.
He then treated himself to a rare day off, before getting back on the bike the following day.
Thank you for reading 20 articles this month* Join now for unlimited access
Enjoy your first month for just £1 / $1 / €1
*Read 5 free articles per month without a subscription
Join now for unlimited access
Try first month for just £1 / $1 / €1