London Cycle Paths: Cycle Superhighway 2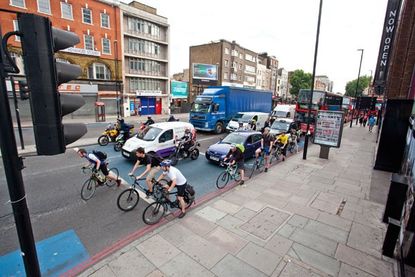 Running 2.8 miles north-east from Whitechapel Road in Aldgate and along Mile End Road to the notorious Bow Roundabout, cyclists who use London's Cycle Superhighway 2 face a daily battle.



As a demonstration of how not to build cycle lanes, this piece of infrastructure would be pretty hard to top. The fumes, the noise and the physical threat of traffic are at times overwhelming, while faded and cracking blue paint provides no protection from the multitude of buses, lorries, vans and taxis.
During peak hours, when it's not frustrating, it's downright terrifying. Tragically, on July 5, a young woman, Philippine De Gerin-Ricard, lost her life here after being in collision with an HGV.
Junctions are where two-thirds of cycling accidents happen, and on CS2 they are at their hairiest at the City end. Traffic bunches up until the advanced stop boxes at each junction are all but engulfed by motor vehicles. Cars, vans and lorries turn left across the bike lane from two nearside lanes without warning.
CS2 is managed by Transport for London (TfL). London Cycling Campaign's Charlie Lloyd says that, under TfL's own standards, this road should have segregated cycle lanes.
L
loyd says of the stretch where De Gerin-Ricard died, near Aldgate East station: "No one can stand here and say this is acceptable. [It is obvious] you are in a very hostile space.
"It is just appalling with all the motor traffic changing direction.
Most cyclists are either going east-west or north-south, but they've got traffic doing left hooks, right turns and changing lanes."
Cyclists need separate cycle lane traffic lights at junctions to prevent motor vehicles from cutting across their path, Lloyd argues.
Andrew Gilligan, London's cycling commissioner, said plans for a substantial upgrade to CS2 have been under way since April, but these haven't yet been made public.
As it stands, there's no space here for cyclists, temporal or physical, just a 'ghost lane' - blue paint covering half the inside traffic lane, which disappears entirely under every vehicle that uses it. At bus stops, there's no cycle lane at all, leaving only blue painted squares along the middle of a traffic lane.
Overcrowded and unsafe
With wall-to-wall buses at the junctions, cyclists either get on the pavement and walk (or, God help them, cycle), or wait in the fumes until the vehicle in front moves forward. Some consider squeezing down spaces as wide as the double red lines in the gutter.
Meanwhile, there are off-peak parking spaces on the blue paint and loading bays where hurriedly parked trucks spill into the road.
That there is anyone cycling here is a testament to demand. That this could be a great route is beyond doubt. However, even in these hellish conditions at rush hour, up to 15 cyclists wait at each set of traffic lights, heading to work. Around 2,200 cyclists use Mile End Road every day, and at peak hours bicycles make up one-third of its traffic.
What's more, CS2 is ideal for segregation. Lloyd explains: "The road space between the buildings is very wide, apart from one railway bridge, so there's actually plenty of room there to do a segregated route all the way through. People talk about London being too narrow for Dutch-style streets; this is one place it could happen."
Rachel Aldred, a senior lecturer in transport at Westminster University, highlights the massive pent-up demand in her excellent blog (bit.ly/14RUbqt) and says that any new cycle tracks should provide enough capacity for thousands of cyclists per hour.
Tower Hamlets, the borough CS2 passes through, sits right next to Hackney, London's 'cycling capital' where around 15 per cent of commutes are by bike (more than by car), Aldred points out.
She adds that, with unemployment in this borough 50 per cent above the UK average, cheap transport here would be a massive advantage for residents, as well as increasing trade for local businesses.
She references a New York street where shop sales increased by up to 49 per cent after a protected cycle lane was installed. At the moment, the environment feels too hostile for cyclists to stop.
This route has promise in bucketfuls, with its wide carriageway, a straight line into the City of London. But the road in its current state is not fit for purpose, and dangerous. Any redesign that stops short of bold, segregated, high-capacity cycling facilities would be unacceptable.
Problem areas
Aldgate gyratory
CS2 begins unceremoniously with some blue paint slapped on the edge of a five-lane road, fed by three lanes of gyratory traffic from the north and four from the south. It isn't a promising start.
Aldgate East tube section
The odd pedestrian dashes across one side of the junction where there is no crossing. Motor traffic has priority here and a pointless four-metre-wide pavement down the centre of the road wastes space that could have been used for cyclists.
Whitechapel Road market
LCC's Charlie Lloyd: "This market is very important culturally; it is the heart of Bangladeshi London. Cyclists don't spend as much each trip but they keep coming back. A cyclist customer spends more than a car customer; they are local people using local stuff."
Mile End Road
The chaos is briefly suspended as magnificent plane trees and wide pavements transport cyclists to a Continental boulevard, with ornate shops, municipal buildings and boozers (including the Bow Bells) and some modern council flats.
Bow Roundabout
Three cyclists have died here, and new separate cycle traffic lights turn green just a couple of seconds before other traffic gets a green light. Although improved, anyone cycling onto the roundabout still risks collision with fast-moving vehicles.
This article was first published in the August 8 issue of Cycling Weekly. Read Cycling Weekly magazine on the day of release where ever you are in the world International digital edition, UK digital edition. And if you like us, rate us!
Thank you for reading 20 articles this month* Join now for unlimited access
Enjoy your first month for just £1 / $1 / €1
*Read 5 free articles per month without a subscription
Join now for unlimited access
Try first month for just £1 / $1 / €1