London Olympic Velodrome architect draws up plans to save historic Herne Hill track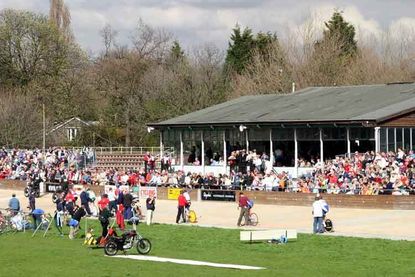 Get The Leadout Newsletter
The latest race content, interviews, features, reviews and expert buying guides, direct to your inbox!
Thank you for signing up to The Pick. You will receive a verification email shortly.
There was a problem. Please refresh the page and try again.
London 2012 Velodrome architect Mike Taylor of Hopkins Architects has thrown his weight behind the Save Herne Hill Velodrome Campaign and drawn up plans for a £5million resurrection of this historic track in South London.
His support is a dramatic boost for the campaign to save Britain's oldest cycle track, built in 1892, and which hosted the 1948 Olympic Games cycling events.
This last remaining venue of the 1948 Games, which runs a vibrant summer school and weekly League, has become a neglected slum at the heart of well-heeled suburb of Dulwich. Its most urgent need is for £300,000 to resurface the track.
Taylor's involvement was celebrated by Campaign supporters yesterday with a symbolic and inspirational coach tour from the crumbling track in South London to visit the gleaming temple that is the completed London 2012 Velodrome on the Olympic site in Hackney.
Standing on the recently installed Siberian pine track surface, Taylor told the Herne Hill supporters that a renovated Herne Hill Stadium will compliment and act as feeder track to the Olympic Velodrome, providing London with world-class indoor and outdoor cycling facilities.
"It is essential that Herne Hill be rebuilt," Taylor said. "So we have given our support to that. We started (drawing up plans) in November and just finished it now.
"We have done an outline design for it which has gone on the website today."
How did he become involved.
"Well, I live near there and ride on the track! He laughed. "`My son is a very, very keen racer.
"We need to get it resurfaced. And we have looked at a scheme for doing up the whole site, largely keeping it as it is but with a new pavilion.
"We are very keen to lend a hand to the Herne Hill campaign."
For Save Herne Hill Campaign leader Hillary Peachey this was her second visit to the London Velodrome.
She first visited 10 weeks ago with John Major, CEO Dulwich Estate, who owns the land at Herne Hill Stadium.
"This building is just breathtaking," she said. CW asked if she had approached the Olympic people for help with the HH campaign?
"Actually, Mike Taylor approached me. He came to the public meeting back in October. He's a local, he cycles with his children on the track. "And he approached us and said he'd like to help in some way. To be quite honest, we feel completely privileged.
"When you stand here in this building and see the success of what they have achieved here, to have them on board for the Herne Hill venture in incredible. We feel very lucky."
Peachey also said that Taylor approached Richard Arnold, the project sponsor for the Olympic Delivery Authority, to offer his support. "Richard wanted to learn of the complications and detail
we have to face if we are to achieve this whole development for the whole site."
After the tour of the Olympic Velodrome, Peachey thanked Mike Taylor for his vision for Herne Hill.
"We have come so far and the people who have come on board to support this campaign, not only the community, but the business partners, the architects, the cyclists, all in agreement that we want to see Herne Hill developed into a cycling facility which is inclusive to all and which is a feed into this amazing facility here, on the Olympic site."
She said next step was key to achieving their aims, to secure a 15-year lease of the track to enable British Cycling to attract funding to resurface the track. They will need between £270,000 to £300,000.
Once that is done the Velodrome Trust will, with Mike Taylor of Hopkins architects, consider how they can develop the whole site, given the planning restrictions and constraints to fit in with Dulwich estate's requirements. The cost of this wider development is estimated to be about £5 million.
Next big moment for the Campaign is the presentation to government bodies at London City Hall on Monday, February 7.
"With Mike and Richard on board, this is very exciting opportunity," said Peachey.
See Hopkins outline plans now, on the savethevelodrom website. www.savethevelodrome.com
Thank you for reading 20 articles this month* Join now for unlimited access
Enjoy your first month for just £1 / $1 / €1
*Read 5 free articles per month without a subscription
Join now for unlimited access
Try first month for just £1 / $1 / €1
Get The Leadout Newsletter
The latest race content, interviews, features, reviews and expert buying guides, direct to your inbox!
Keith Bingham joined the Cycling Weekly team in the summer of 1971, and retired in 2011. During his time, he covered numerous Tours de France, Milk Races and everything in-between. He was well known for his long-running 'Bikewatch' column, and played a pivotal role in fighting for the future of once at-threat cycling venues such as Hog Hill and Herne Hill Velodrome.