London wins bid to host 2016 Track World Championships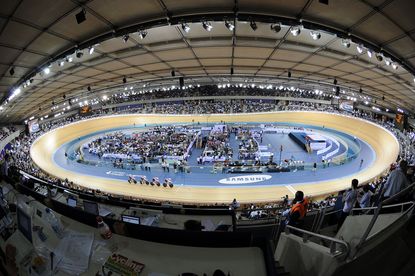 London velodrome will host the 2016 Track Cycling World Championships, the Union Cycliste Internationale announced on Wednesday.
The London 2012 Olympic Velodrome will welcome the cream of international track talent over February 24-28 2016, one of the key build-up events ahead of the Olympic Games in Rio.
"Winning the bid to host the final Track Cycling World Championships of the next Olympic cycle is important strategically for us, it's good for the current generation of athletes, but it's also an important tool for inspiring the next generation who will follow in their footsteps," said British Cycling chief executive Ian Drake.
Mayor of London Boris Johnson added: "This is absolutely fantastic news for London, marking the arrival of yet another thrilling world class sporting fixture to our city. These prestigious championships will be centred around our stunning Olympic velodrome, a remarkable venue that saw such awe-inspiring performances from British cyclists last summer.
"Interest in cycling is rocketing in this city and I've no doubt London's 2016 Track World Championships help will propel this even further."
The velodrome will form part of the Lee Valley Velo Park, which is currently under construction and will also include a road circuit, mountain bike trail an BMX track. The park is due to open for business in March 2014.
Thank you for reading 5 articles this month* Join now for unlimited access
Enjoy your first month for just £1 / $1 / €1
*Read 5 free articles per month without a subscription
Join now for unlimited access
Try first month for just £1 / $1 / €1