Marco Pinotti Interview - 7 steps to athletic perfection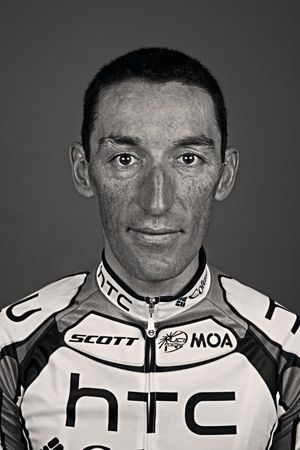 (Image credit: James Purssell)
"One of the most important things about being a pro is consistency"
Nicknamed 'the perfect athlete' at HTC-Columbia, four-times Italian time trial champion Marco Pinotti, 33, outlines how to be the ultimate bike rider.
Interview by Alasdair Fotheringham
Photos Richard Baybutt
Marco Pinotti is probably the last person in the world who would call himself perfect. Anyone who says, like Pinotti, that he's taken 10 years to become a 'good' rider, clearly isn't a man with a huge ego.
At the same time, Pinotti has come to some pretty important conclusions about what it takes to perform well as a top-level professional. And he, and his HTC-Columbia team, have the results to prove it.
So Cycle Sport asked Pinotti to outline seven key areas where the new crop of riders who have turned professional this year — or anybody who rides a bike, actually — could try to progress. And this is what he came up with.
CONSISTENCY
"One of the most important things about being a pro, from day one until the last day of your career, is consistency.
"In my experience, getting better at racing happens fastest when you believe passionately that what you do on and off the bike will improve your performance. That belief comes from understanding why you are doing something, not just in doing it for the sake of it.
"For example, in other squads, [Pinotti joined his current squad in 2007] when it came to doing core exercises or whatever, my team-mates just wouldn't do them — they couldn't see the point.
"But then when Darcy [Norman, HTC-Columbia strength coach] talked to us about them I actually went out and read the book, called Core Performance, that explains what the exercises were all about. And now I believe in them 100 per cent.
"To be consistent, you actually have to be a little bit dissatisfied about what you are doing, too — that's when you get curious. Keep asking questions, that way you're trying to add a little bit more of yourself into your performance. And remember, each time you do that, you're gaining a second here and a second there. It all adds up."
MOTIVATION
"In 2003 and 2004, I hit a huge crisis. I kept on getting injured and I didn't know what was happening. Every year before that there had been a problem. I broke my ribs in a crash in 1999, I broke my scaphoid and my ribs (again!) in 2000, in 2001 I broke my collarbone and in 2002 I broke my nose.
"The really depressing thing was, even when I had a good season, or good part of a season, I actually didn't know why it had happened. I wasn't asking enough questions.
"In 2004, I had a good season and rode the Tour de France. But I still couldn't find a real reason to keep on cycling.
"So I decided to find a new way to set goals and stick to them.
"In a sense, just deciding I needed to have specific aims was a huge step forward. If you know where you want to go, you will usually find a way to do it.
"But curiously, even as I started setting out those goals, for the first time I realised that personal success in cycling was not my whole life, and that I had to have different reasons to continue racing.
"So I talked things over with my coach, Omar Beltran, and I found a reason to go on and do more, which was to show younger pros that a rider can race and win within the rules.
"It was like I was on a mission. From then on, as soon as I'd taken myself out of the equation, everything went much better.
"But at the same time I had set myself some new goals. My aims don't have to be the same as somebody else's, but clear targets are vital.
"I'm sure people will be saying, 'Yes, this all sounds great but what about the team's goals? What happens if I want to be in the Tour de France but they already have a long list of riders and I'm not on it?'
"Two things then count. You have to be able to make your team understand your needs and you have to understand the needs of your team.
"You look for what you both want and then take it from there. If you can't find an agreement, then you'd better change teams the following year.
"In HTC-Columbia I know I will get my chance. I have to work but my team-mates are happy to help me win, too.
"So be warned: if you just act like you are a winner — in any team — then you'll go under. It's a balancing act."
SELF-DISCIPLINE
"I think another thing that goes with consistency is self-discipline. You have to be kind of addicted to this sport.
"Cycling can't make you feel like you're constantly having to make sacrifices. If you're not happy at the thought of going out training, then something's going wrong.
"You should feel everything flows and goes well when you're riding your bike, not that it's a problem.
"Self-discipline also means real attention to detail, to all the smaller questions as well as the bigger ones. So when people ask you how many hours a week you train, the real answer should be that you train 24 hours a day, seven days a week, all year long.
"In fact everything, absolutely everything I do, is from the point of view of an athlete's mindset. Of course, I know I need holidays, but only because I know I need to rest. Whether I want a holiday or not isn't relevant.
"The same thing goes for my family. I stay with them because I love them, but also because I know that when I'm part of a family I'm a more well balanced person, and that will improve my performance.
"In general, the closer time-wise you are to a race, the more self-disciplined you have to be, and the further away it is, the less. But you can never afford to lose sight of self-discipline completely."
SELF CONFIDENCE
"One thing lacking in some people when they turn pro is self-confidence.
"That's why even though it's normal to be very self-critical at first, you have to learn to adapt to what you are and believe you're heading in the right direction. Do everything you should do but don't take it to extremes — there's no point in living like a monk.
"I must admit I don't have any heroes in this sport — I know the history of cycling. But one good trick I've learned is to use the idea of heroes to select a 'mentor' when I have a special need.
"For example, if it's raining and cold but I have to train, I would say to myself, 'Who do I want as a mentor? Which rider trains regularly in the rain?'
"It's not like I'm calling them on the phone to find out how they did it, that's not the point at all. Rather I play out their part, like an actor would do. I have a mental image of them that I use to improve motivation. This mentor doesn't have to be a person. It could be an animal. But whatever happens, you're using them to help you find a way forward. At the same time, you'll be increasing your own self-confidence."
FOCUS
"Once you've set your goals, focus on them fully. This is something I've only realised is difficult — and important — during the last few months when I became a father, and had to spend a lot more time looking after my wife and child. As a result, I started appreciating setting goals and sticking to them wasn't straightforward!
"The best way to stick to goals is to have a list of priorities. To give a simple example, when I go training I'll only answer calls from my wife. Everybody else gets ignored. Or when they ask me to talk at a club meeting after the season's over, I'll often say 'no' just because I need to rest.
"As a pro, although you spend a lot of time away, a lot of the time you're working at home. The distractions mount up. So make rules and priorities about what happens when you're working — training — and stick to them.
"I don't ever break my training plans, even if it's a bit embarrassing at times. When we did the HTC-Columbia training camp, I wanted to do well in the team time trial, so I went all-out there, but the same day I was the last guy in our group on the climb. I was told to climb at 320 watts, so I climbed at 320 watts. I didn't care what the result was or if I was lagging behind the other riders.
"One last word of advice: don't just 'go with your feelings when it comes to training', be prepared for what you have to do. What I mean is I used to adapt my training schedule to how I was feeling that day. Now, if I know I've got six hours of training to do, I'll mentally prepare myself for that. And I'll do it. I'll even mentally prepare myself for a rest day, so I don't go off training and skip the rest day just because I'm feeling good and want to go out on the bike."
BALANCE
"Striking the right balance between all the different aspects of your life — cycling and non-cycling — is never a straightforward business. If you want to succeed you have to be selfish at some point, but at the same time it pays to have an awareness of your ego in a positive way.
"The problem is sometimes your ego is its own worst enemy. Personally, if you're in the middle of a training block or a race, I'd recommend not thinking about the consequences of the results you're looking for, even if it is what your ego wants you to do.
"Just think about how you're going to get there. Focus on the method, not the results. You'll get there faster.
"The other danger of focusing too much on your own needs is that it leads to disharmony with your partner.
"So what, at least I'm going to be successful, you might think. That's the wrong way to look at it. If you want to perform better on the bike you need a stable lifestyle off the bike too, and if you haven't got that, you'll end up paying for it in your performance.
"There's sometimes peer pressure, too, to lose your focus and the only answer there is to stick to your guns. To give a non-cycling example, I remember meeting some friends before Christmas and after a couple of hours I insisted on leaving the party. They all started asking me what the problem was.
"If you want to sleep for eight hours, or go home early, make sure you do. Ignore the comments. Stay systematic, and stay stable."
MORALITY
"The connection between being a good athlete and being completely against using banned drugs is enormous — and not just because riding drug-free can give you a sense of being on a mission, which I mentioned earlier.
"Put simply, using banned substances is the shortest way to achieving what you want at a higher level. The only problem is, apart from being an excuse not to train and being illegal, it takes away the value of everything you succeed in doing.
"Rather than taking that short cut, it's better to make small improvements to reach your objective, and to reach it in a way that gives it real value.
"There are people who say that professional cycling is a career, not a mission, and because it's just a job they convince themselves it is OK to cheat. They start doping because they believe they need the money or need to improve fast. Or maybe their ego demands a better performance from them.
"But the problem all these people have is that even after having a great career, they can't stop doping. That's what happened to Danilo Di Luca. They end up believing it's necessary, part of their job. They're addicts.
"You study people in the mafia when they go on trial, they have exactly the same attitude and defence. They say they committed crimes to protect their family; it's like they've done nothing wrong. Dopers feel the same way, and the reasons they do it are the same — they're in the wrong environment.
"It's ultimately a moral problem and in sport, it's one that has existed since medicine came into the world. Professional cyclists in the 1960s went on strike because of the introduction of anti-doping tests — they said they couldn't do their job without the aid of drugs. Just like the guys say when they do drugs today.
"So please don't give me that line about just because they used amphetamines in the 1960s it was different. If that generation of cyclists were racing today and they had access to the same sorts of drugs that we have today, they would have used them without doubt. The moral issues remain the same.
"Cheating would go against my whole philosophy, even though when you look at guys like [Filippo] Simeoni or [Christophe] Bassons, you remember they got laughed at. I'm sure some people think I'm an idiot.
"On the other hand I'm here, I'm winning and in HTC-Columbia we're winning a lot.
"I hope young riders will look at us and say, 'It's great, it's possible to win clean, I trust him.' There will always be cheats in sport, but just as human beings start to learn by imitation, so this sport needs models to look up to as well. I think education is the answer."
AND FINALLY
"What's the single most important lesson I've learned as a pro? It's that you never stop learning, and you can learn from anybody. Also that time doesn't automatically provide the answers. I've learned more in the last two years than in the previous eight.
"At the same time, when you learn something but don't do anything about it, it's like you don't actually know it. It won't help me unless I react to a certain theory. And it's far better to do less, but do it well, than try to go over the top doing everything at once.
"The good thing about riding a bike is it's good for you — now. People used to say that for every year you have as a pro, you lose two years of your life. I would say that nowadays you gain two years of your life for every year as a pro.
"Riding your bike makes you healthy even if you are doing 30,000 kilometres a year. Of course, on top of that, you have to have a healthy diet and lifestyle and learn things you can apply afterwards in your life. You can continue with those good habits.
"At the same time, a human being needs changes. It's repetition that makes you bored. You need new stimuli to keep feeling alive and you need new stimuli to keep your career alive.
"So what can possibly be new for me at 33 as a pro, you ask. Well, first off this month there's the Tour of Oman, a completely new event, I'm very excited about racing there.
"Maybe I can be faster too this year, maybe getting a top-10 place in the World Championships time trial isn't out of the question. Then there are three or four big new teams that are set to join the peloton this year. It is going to be really interesting to see how we at HTC-Columbia take them on.
"Finally as a father, I want to see if I can cope with being a father and being away from home so much. That could be the biggest challenge of all."
Thank you for reading 20 articles this month* Join now for unlimited access
Enjoy your first month for just £1 / $1 / €1
*Read 5 free articles per month without a subscription
Join now for unlimited access
Try first month for just £1 / $1 / €1