Mark Cavendish Interview: Obsessive compulsive marauder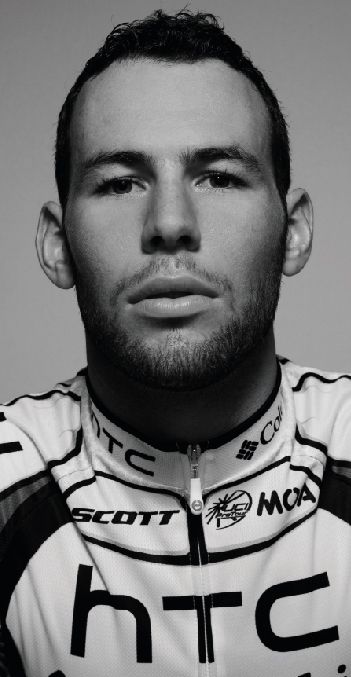 "I'm sociable. I always need people around me. I need company. I'd rather be arguing with somebody than be on my own."
Rather than see it as a disadvantage, HTC-Columbia has managed to turn Mark Cavendish's furious perfectionism into a serious asset. In 2010, it'll be catapulting him towards plenty of victories, including, he hopes, the Tour de France green jersey in July.
Words Edward Pickering
Pics Richard Baybutt, Andy Jones, Graham Watson
Nobody particularly likes making mistakes. But Mark Cavendish hates it. Loathes it. We're sitting in the HTC-Columbia camper van in the car park of a hotel in Almeria, and he's telling Cycle Sport just how much it winds him up. Cavendish, you could observe, gets wound up quite readily. When something, anything, doesn't quite go right, exasperation erupts and fizzes. The forehead creases. The swearing begins.
"I'm obsessive about it. I fooking rarely make a mistake," he seethes. "It's all about minimising the risk of failure. Even in life. My girlfriend will do something which makes her drop something, and, fooking, I'm 'Why didn't you do it like this?'
"I take it for granted. I have that kind of brain that does that. Rod [Ellingworth — his coach] tells me, when I'm getting frustrated about things, 'People don't think like you.'
"I get frustrated about people making stupid decisions in a race even if they're on a rival team. It's like, what the fook did they do that for?
"In my apartment, everything has to have its place. Seriously, if I've gone out, it's worth losing one minute to go back and check something's not been left plugged in. I'm not embarrassed. It's more embarrassing for your house to burn down.
"I'm obsessive compulsive," he concludes. Then adds in mitigation, "but only in some things."
The HTC-Columbia management are fully aware of Cavendish'ss personality type. In fact, they've harnessed it, by using his perfectionism to make their team the best lead-out operation in the world. Perfectionism is just another word for marginal gains, and HTC were tweaking and innovating in this area years before Sky got in on the act. They also know exactly how to work with Cavendish's tendency towards frustration.
"After the Olympic Games, in 2008, everybody stopped," recalls HTC team manager Brian Holm.
"Everyone was complaining about jetlag. Mark was pissed off, too, but he went to the Tour of Ireland and won three stages. It helped that Mark was pissed off. For racing, I'd rather he was pissed off. Then he wins. When cyclists get happy, it's not good."
And when Cavendish is frustrated, it might look from the outside that he's throwing a tantrum no different from any child. But the truth is that it's extraordinarily focused — during that morning's ride, Cavendish has a problem with his saddle. He stops. Frowns. Swears. Then everything becomes geared to efficiently fixing it. An Allen key is produced, a nut tightened, and suddenly Cavendish is back on his bike, relaxed and smiling in anticipation of more riding, the southern Spanish sunshine warming his back.
Cavendish has endured a bad off-season. There have been complications in his private life, followed by a debilitating dental infection (see box), enough to rob him of weeks of training. But he's surprisingly chipper about things, even if he's a lot more animated when talking about racing than about self-analysis.
"I'm behind," he admits.
"This time last year, I could have sat down here now, and I could have said, 'I'll win San Remo.' I can't say that now. Considering I've only done a thousand kilometres in the last six weeks, when I'd normally have done three times that, I'm not at such a bad level. But it doesn't matter where you are, you always want to be fitter. When you're not at top form, you still want to be there.
"Not because you want to win, but because it's fooking hard when you're not at top form," he adds.
It would be extraordinary if Cavendish were somehow to beat himself into enough form to be a contender at Milan-San Remo. Everything we know about cycling suggests that it's too tall an order, and Cavendish is realistic about it.
"I've got the number one on my back. There's no pressure to succeed, but there's a chance. If it was tomorrow? No, I wouldn't win."
And when he looks back on 2010 at the end of the season, he might well see his health problems and subsequent late start as a blessing in disguise. Other priorities, further down the line, can now benefit from his full attention. Cavendish needs to win the green jersey this year, and there is also a comparatively flat World Championships in September.
The memory of the 2009 green jersey classification itches and chafes at Cavendish. Fourteen points were taken from him in a controversial disqualification at Besancon, while winner Thor Hushovd beat him by 10.
"Green is the target for the year.
The Worlds is also a target, but it's not a failure if I don't win. If I don't win the green jersey, it will be a failure. It's everything for that," he says.
Cavendish won six stages last year, yet still didn't win green. How can he swing it this year?
"Not get a fooking stupid disqualification," he says.
"People have asked me what I've learned from the Tour, but what do I have to learn?" he asks.
"I lost 14 points when I shouldn't have been disqualified, and he [Hushovd] won it by 10. What I said last year was that I'd try to win as many stages as possible, and the green jersey should come with that. I was right. I wasn't close. I wasn't 'not far off'. I lost it by default. I don't understand how Hushovd can't think that he won that by default. Fooking, I take my hat off big style to his fight, going into the mountains, getting points when I couldn't. But fundamentally, I lost 14 points in that disqualification and he won it by 10. You can't argue with that."
Many people have the impression that Cavendish is a bundle of nervous energy, and to some extent they are right. When there is a silence, it is generally Cavendish who breaks it.
Even enjoying a relaxing drink outside a cafe, he sits in his chair, and while his body looks relaxed enough he's always looking around for something to talk about or just to watch.
However, this nervous energy doesn't translate into impulsiveness. Things happen fast in a sprint, and Cavendish is ready to react to them, but off the bike he is a student of cycling. He studies finishes, his rivals and aerial television shots of sprints with diligence.
When Cycle Sport brings up the subject of potential rivals in 2010, he is already answering, before we've even got past early-season winners Edvald Boasson Hagen and Francesco Chicchi.
"The other sprinters don't dominate. I dominate. My team dominates," he says.
And in a warning to anybody who feels that Cavendish won't be able to maintain his staggering win record, he calmly explains that he rarely goes all out in a sprint.
"Three times in 2009, I went 100 per cent in a sprint. Tell me what they were," he demands.
Milan-San Remo.
"Yep."
The Champs Elysées.
"Yep."
Er…
"First sprint of the Tour. Farrar was on my wheel and I dropped him from it. At the Tour, you go into it and you don't know the form of the others, so the first time, you go 100 per cent," he says.
"But every single sprint after that is about conserving energy. A sprint takes so much energy from you. I couldn't walk properly for two days after Milan-San Remo."
Cavendish is sure that nobody will match him physically this year, and he says so with the confidence of somebody who knows himself and his rivals inside out. But he knows that his rivals are studying him just as hard as he studies them.
"Tactically, I minimise my chances of failure by having a great team. I study a hell of a lot. But there are three guys in the peloton who are clever enough to beat me. Thor. Freire. Petacchi. I'm not scared of any of them physically, but I guarantee you they'll beat me once. Petacchi beat me in the Giro last year, caught me by surprise, and it happens once. Done. Winning can be a formality, but if somebody does something different and they beat me, they are the three who will do it. But I guarantee that whatever they do to beat me, they'll only do it once."
He adds: "I heard Tyler [Farrar] saying he was getting better. But if they get better, I'll start going at 85 per cent instead of 80."
"I'll tell you something about cycling," Cavendish says to Cycle Sport. "We're a bunch of women. Gossipy women."
He's right. Gossip travels through the peloton like a rider moving to the front of the bunch. Riders discuss each other's form. They speculate on each other's abilities. And more than that, they and their team staff talk about next year, right from the start of the season. Cycling is a transient sport — there's little job security for a rider beyond a two-year contract, and almost as little job security for team staff whose sponsor may give notice of pulling their money out at any time. Fans and media aren't immune from joining in.
It's inevitable that Cavendish, as a high-profile and extremely successful British rider, will be linked to Team Sky.
"Tell me about it," he says, reluctantly. "All the people in my life — my coach, my mentor, my best friend Max [Sciandri], my agent Fran [Millar]. All work for Sky now. Can you imagine how fooking hard that is?"
Which brings us to Cavendish's point about peloton gossip, and how difficult it is going to make his life over the next year.
"Can you imagine me asking a guy to work hard for me if he thinks I'm going somewhere else? But there's a difference between needing to be somewhere and wanting to be somewhere. I want to be here [at HTC]. I don't need to be here. Two years ago I wanted to be here and needed to be here. Now I don't need to be anywhere."
Cavendish continues to maintain that as long as HTC are the best team at delivering him to the finish line in the best shape, he'll stay with them. But they've lost a couple of key lead-out riders, including the highly experienced George Hincapie. Cavendish explains how HTC are coping with the impact of these changes, and he starts by telling us about André Greipel.
Greipel is one of a handful of riders who could realistically be considered the second best sprinters in the world. Between him and Cavendish, they won 43 races last year — more than any other entire team. More than the whole of Belgium, in fact. But Cavendish is quite clear that while cohabitation is possible, cooperation is more difficult.
"He won't ride the Tour," Cavendish says flatly.
"Not because of his ability to sprint, but because of his ability as a lead-out man. If you're playing a game of cycling manager, where would you fit Greipel into my lead-out train? Watch his sprints. In Australia he should have won six stages, but he loses wheels.
"I can sit on Mark Renshaw's wheel — he can surf the side of the peloton for two kilometres and then still go fast. A lead-out man is a sprinter, but he's not a sprinter. It's like a team pursuit isn't just a bunch of four pursuiters. A lead-out isn't going as fast as you can, it's getting the best out of nine guys to deliver that one guy who's got to cross the line first."
HTC-Columbia's lead-out is a work of art, and watching it operate in the final kilometres of Tour de France stages in the last two years has been an education. Mario Cipollini's Saeco train, or Petacchi's Milram train might have been able to dominate simply by riding hard, but things are far less predictable these days. Lead-outs have become highly technical, tactical affairs — as other teams surge to try and take over, the leading team has to respond in an instant, or get swamped.
"It's not being the fastest team, it's being the team that is in control. There are loads of lead-out trains going on," says Cavendish, who got hold of the helicopter television shots of the last five kilometres of all the 2009 Tour sprints from Eurosport.
"There's no commentary to follow, it's just the helicopter shots. I've studied them all. I study the other teams to see what they do wrong. So does Mark Renshaw. We use that to make sure we don't make the same mistakes. If you notice, there's something we do that nobody else does. Columbia are always in control."
For 2010, the lead-out train is still a work in progress. Renshaw will retain his position as last man, but HTC have had to think a way round the absence of George Hincapie.
"You can't replace George. We're going to get two people to replace that one job," says Cavendish.
"But we've got six riders who can be those two people."
The attention to detail which goes into Cavendish's sprints is quite incredible. He is well known for his scepticism of judging riders purely by their power outputs, and when he talks about his own methods of racing, it's not surprising. Wattages are only a small part of a very long equation, although Cavendish's reputed low numbers don't look that low to us.
"You'd be surprised at my watts," Cavendish says.
"Most people who say that their maximum is 1,600 watts won't put out 1,600. My maximum is 1,580, and that is a lot. Not many guys will do more than a hundred more than that. But no one will ever get close to that in a race after 200 kilometres," he continues.
"I put out 1,490 today in training, on bad form, but I won't put that out in a race. It's not watts, and it's not just my frontal area in a sprint. It's everything beforehand. How I ride in the peloton. My pedalling action. How I sit. I save so much energy for the finish."
This is related to Cavendish's revelation that every sprint after stage two of last year's Tour, save for the very final one, was done not on maximum effort, but on the minimum effort that would still guarantee a win.
"I get stronger towards the end because I'm so good at saving energy. I'm always going to be the last in any mountain stage. In 2008, it was because I was one of the worst. In 2009, it was because I didn't need to be in the fourth group when I could be in the fifth.
"Cycling's more than just hurting yourself," he concludes.
"It's a calculable thing. It's a series of equations and decisions. Something you do on the second day of the Tour could affect how you are on the 20th day."
Cavendish might be well advised to apply the techniques he uses for getting through a Grand Tour to his entire career. The explosive intensity with which he won Milan-San Remo last year surely cannot be replicated often.
"It's fooking hard. Real hard. I don't know how many years I can carry on doing it," he admits.
"I might be able to do it for 10 or 15 years, but I really don't know. I'm not lying if I say the pressure's incredible. Not just to train, but the extra curricular stuff, little details I'm known for, the team, the videos, studying opponents, studying my team, studying races. It's not pressure to win — it's pressure to stop failing, and all the things you have to do to stop failure. I train and it's tiring. But mentally it's exhausting," he says.
"But I do know that I won't go and stick my nose in a bowl of coke. You can quote me on that," he adds.
Great champions go through entire careers without a moment to compare to Cavendish's San Remo win. It's entirely possible that Cavendish will indeed go through the rest of his career without ever matching the perfect convergence of circumstances, speed, explosiveness and sheer exhilaration that characterised those glorious final 300 metres.
Cavendish doesn't have the words to describe his victory, and when he talks about it, he reduces it to a successful day's work. "I worked towards it, I studied it. Everything went right, everybody did their job. I had luck, no punctures. I finished it off."
His physical reaction is more telling: he's come out in goosebumps.
Thank you for reading 20 articles this month* Join now for unlimited access
Enjoy your first month for just £1 / $1 / €1
*Read 5 free articles per month without a subscription
Join now for unlimited access
Try first month for just £1 / $1 / €1