Matt White dismissed by Cycling Australia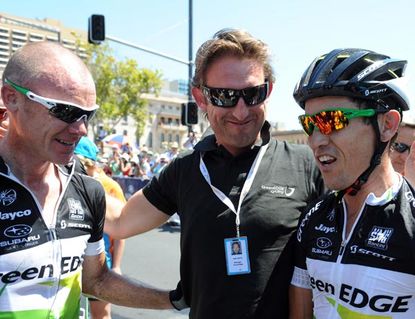 Cycling Australia dismissed Matt White from his role as head coach of the men's cycling team and took aim at the Union Cycliste Internationale (UCI) this morning. Last week, White confessed to doping while riding in Lance Armstrong's teams.
"I have really enjoyed working for Cycling Australia and it has been an honour to represent my country in the role I have had. I understand the current situation makes it difficult to sustain the position and I respect that Cycling Australia has to make certain decisions," the 38-year-old said in a press release.
"It's crucial there is a positive outcome from the current debate about cycling's past and I feel a responsibility to be part of that - even if it won't be in an official Cycling Australia role."
White maintains his sports director role in WorldTour team Orica-GreenEDGE, though he decided temporarily to step down after the US Anti-Doping Agency (USADA) released its Reasoned Decision in the Armstrong investigation on Wednesday. Orica said in a statement, "We ... will await the decision of the relevant authorities."
The agency's Reasoned Decision put pressure on White, who was believe to be listed as "Rider-9" in Floyd Landis' affidavit. Landis said, "I then spent substantial time training with fellow USPS team members 'Rider-9' and Michael Barry and shared, and discussed the use of HGH, testosterone and erythropoietin with them while training."
White sent out a press release three days later. He explained, "I am aware my name has been mentioned during talks that USADA has had with former team mates of mine in their investigation regarding doping activities at the US Postal Service team. I am sad to say that I was part of a team where doping formed part of the team's strategy, and I too was involved in that strategy."
He raced with Armstrong's teams from 2001 to 2003 and 2006 to 2007, but did not specify which years he doped. Cycling Australia called a meeting after the revelations and met last night to discuss White's role.
"In that role he has made a significant, valuable contribution to our men's national teams and at no time do we believe his influence or actions went against the best interests of the sport," read a statement. "However, the admissions contained within his public statement of 13 October clearly place him in breach of the CA Anti-Doping Policy and Code of Conduct."
In January 2011, team Garmin terminated White's contract after it emerged he referred cyclist Trent Lowe to a doctor, Luis Garcia del Moral, without approval. Del Moral worked in Armstrong's teams and this summer was part of the US agency's investigation. In July, the agency banned him from practicing within sport for life. Cycling Australia said that it investigated the termination in 2011, but found no grounds to prevent him from continuing in his role. The USADA and Armstrong connection became too much.
The UCI also came under fire from Cycling Australia. The international federation has been accused of covering up doping in the Armstrong era.
Though Cycling Australia praised the UCI for its biological passport and said the sport is much cleaner. It added, "We acknowledge that there is now clear evidence that the UCI, until recent times, failed to fully and properly do its part to stamp out doping," the press release read. "We at CA encourage the UCI take this very real opportunity to steer the sport into a new future."
Related links
USADA's Armstrong doping report in brief
USADA doping report repercussions continue
Leipheimer sacked by Omega Pharma-QuickStep
Leipheimer, Zabriskie, Vande Velde and Danielson all admit to doping
USADA publishes details of Amrstrong doping case
UCI responds to USADA Armstrong doping evidence
Former Armstrong team-mate Barry: Doping had become an epidemic problem
Hincapie admits to doping during career
External link
Link to USADA's full Reasoned Decision document and all supporting evidence
Thank you for reading 20 articles this month* Join now for unlimited access
Enjoy your first month for just £1 / $1 / €1
*Read 5 free articles per month without a subscription
Join now for unlimited access
Try first month for just £1 / $1 / €1