Mobike pulls out of Manchester following theft and vandalism
Chris Boardman says the antisocial behaviour is not unique to Manchester and that a hire scheme needs to engage more with the community for future success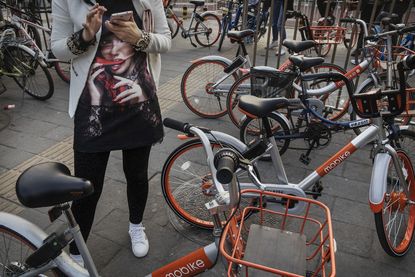 (Image credit: Getty Images)
Chinese firm Mobile will remove its machines from Manchester, making the UK city the first that the bike-sharing provider has abandoned due to theft and vandalism.
The company announced its withdrawal on Wednesday, promising that customers would have their £29 deposits and credit refunded. The silver and orange bikes will be moved to London, Oxford, Cambridge and Newcastle where Mobike also has schemes.
The company issued a warning to people in Manchester that removal of the scheme would take place if behaviour did not improve after bikes were found dumped in canals and strung up on lampposts.
It was revealed that over the course of July, 10 per cent of the Manchester fleet was 'lost' or vandalised. Many bikes had their locks hacked off and the frames re-sprayed.
Mobike arrived in Manchester in June 2017 and people in the city have made over 250,000 trips covering more than 180,000 on them since.
Though the company has pulled out of cities in the US before due to a failure to hit demand, this marks its first retreat as a result of poor behaviour. Mobike has considered leaving the cities of Newcastle and Gateshead on account of vandalism, but bosses say that this has decreased to a "sustainable level".
Jan Van der Ven, the general manager of Mobike UK, told the Guardian: "As a private company, we have a duty to ensure our revenues cover our costs since unlike some operators we do not use taxpayer money to help balance our books. Unfortunately the circumstances in Manchester have not made this possible."
The city's cycling and walking commissioner, Chris Boardman, believes more could be done to ensure a successful future for bike-sharing schemes in Manchester.
He told the Guardian: "Antisocial behaviour is not a problem unique to Manchester.
"It has been encountered in other UK cities and other bike operators have found ways to deal with it. The problem here has been that we just haven't seen the right level of engagement from Mobike or a willingness to work to implement tried and tested solutions."
Boardman added: "This was always a trial and despite the negative outcome we've learnt a huge amount from both using and observing the scheme in action.
"A successful bike share scheme requires close community and partner engagement from the outset, the option for docking stations and enough people on the ground to ensure it is reliable and serving its purpose.
"I want to assure Greater Manchester residents that the learning is already being put to good use and that they can expect some very positive news in the not too distant future."
Thank you for reading 5 articles this month* Join now for unlimited access
Enjoy your first month for just £1 / $1 / €1
*Read 5 free articles per month without a subscription
Join now for unlimited access
Try first month for just £1 / $1 / €1