New Eastway proposals submitted for planning permission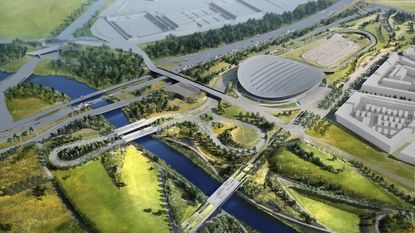 The Olympic Park Legacy Company (OPLC) today submitted final plans for London's VeloPark, which will be built on the former Eastway site.
The scheme, which has received backing from British Cycling, Sport England and Lee Valley Regional Park Authority, supersedes a previously consented plan by the Olympic Delivery Authority (ODA).
A one-mile road circuit, along with five miles of mountain bike trails will be built around the Velodrome and BMX track after the London Olympics should permission be granted.
The plans, designed by a team including Hopkins Architects and LDA Hargreaves, were displayed to the public in Stratford last month.
The road circuit, which is based on the ODA's scheme that was developed alongside the Eastway Users' Group, was met positively.
The total elevation of the track is similar to the former Eastway facility, while there is the option to hold events on smaller circuits.
The track crosses the River Lea twice during its anti-clockwise run
In addition, a path that links the Velodrome to Waltham Forest in the north of the Olympic Park through the mountain bike trails has been included in the submitted plans.
This proved contentious at last month's meeting, although those behind the designs said that public accessibility had to be considered when coming up with the plans.
Speaking about the plans, British Cycling's Chief Executive Ian Drake said: "We're delighted to lend our support to the plans which, if passed, will provide a yet another fantastic facility for cyclists. Such facilities are essential if we're to continue to attract more people to the sport and this will be a legacy from 2012 in which we can all take great pride."
The Olympic Delivery Authority's Planning Decisions Team will carry out a statutory consultation on the application between December 14 and January 11 before considering the application. The full plans can be viewed at www.london2012.com/planning
Thank you for reading 20 articles this month* Join now for unlimited access
Enjoy your first month for just £1 / $1 / €1
*Read 5 free articles per month without a subscription
Join now for unlimited access
Try first month for just £1 / $1 / €1