Nicole Cooke retires from professional cycling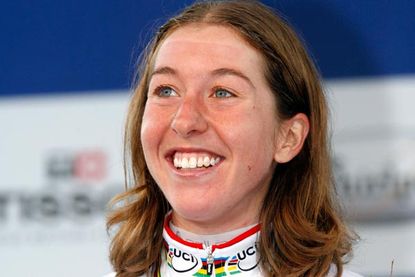 Nicole Cooke today her announced her retirement from professional cycling after 11 years. The 29-year-old confirmed her decision to hang up her wheels at a press conference in London this afternoon, during which she took aim at drug cheats, former teams and the sport's governing body.
"I am very happy with my career. I have many, many happy memories over what has been my life's work since I was 12," said Cooke. "I have won every race and more that I dreamed I could win."
However, Cooke used the announcement to express regret that she competed in an era tainted by doping scandals. "I am so very fortunate to have been able to have won clean... I have been robbed by drug cheats, but I am fortunate, I am here before you with more in my basket that the 12 year old dreamed of. But for many genuine people out there who do ride clean, people with morals, many of these people have had to leave the sport with nothing after a lifetime of hard work."
"When Lance cries on Oprah later this week and she passes him a tissue, spare a thought for all of those genuine people who walked away with no reward.
"Tyler Hamilton will make more money from a book describing how he cheated than I will make in all my years of honest labour. The situation requires the very basics of morality. Please don't reward people like Hamilton with money. That is the last thing he needs. Donate his literary prize and subsequent earnings from such publications to a charity. There are many places infinitely more deserving than the filthy hands of Hamilton. I am happy to offer some ideas!"
Cooke also blasted the Union Cysliste Internationale (UCI) for not supporting women's racing more fully instead of "wasting time" with the Lance Armstrong affair. "Whilst they [the UCI] have been so engrossed trying to find receipts for the equipment they bought after Lance made donations to them, and suing Floyd Landis after he blew the whistle, and hold press conferences calling Landis a liar. Whilst they have been busy with all these priorities, the women's road sport, that looked so promising in 2002 when I turned professional, has crumbled."
Cooke also spoke about the struggle that she has had during her career to receive wages from teams, stating that she has taken four of her teams to court to retrieve unpaid wages. "I have won every time," she said, "but this is incredibly abrasive and exhausting in so many ways."
"My time in the sport has finished," said Cooke. "I hope I will look on in 10 years' time and see a vibrant and healthy women's road scene. The key to that will be that the female athletes are treated with respect."
The full statement can be found on Cooke's website.
Glittering career
Cooke, who was awarded and MBE in the 2009 New Year's Honours list, is one of Britain's most successful female riders of all time.
10 times the British Road Race Champion, her finest hour came when she won the Olympic Games and World Championships road races in the space of two months in 2008.
However, the last two seasons have been indifferent for the former world number one.
She recorded just two UCI-ranked victories in that time, the last of which was a stage in the Energiewacht Tour race in the Netherlands in April.
Cycling Weekly reported in October that Cooke was considering retiring from competitive action.
Walter Ricci Petitoni, manager for her 2012 team Faren-Honda, said at the time: "She's not certain anymore what she wants to do.
"She hasn't gone like [the real] Nicole Cooke, a bit like last season. Perhaps we expected more from her, but she gave and did everything she could.
"I said 'if you decide to continue, you have to have in your head that you have to return to be [the old] Nicole Cooke.'"
Nicole Cooke: her greatest victories

1999-2009 British road race champion
2008 Olympic road race champion
2008 World road race champion (below)
2002 Commonwealth Games Road Race
2003, 2005, 2006 La Flèche Wallonne Féminine
2004 Giro Donne, overall
2006-2007 La Grande Boucle Féminine, overall
2007 Ronde van Vlaanderen (below)


2003, 2006 World Cup Series, overall
2003 Amstel Gold Race
2003 GP Plouay

2000-2001 World Championship Junior Road Race

2001 World Championship Junior Time Trial

2001 World Championship Junior Mountain Bike Race
Winning in the rain: Cooke becomes Olympic champion in 2008
Related links
Nicole Cooke: rider profile
Thank you for reading 20 articles this month* Join now for unlimited access
Enjoy your first month for just £1 / $1 / €1
*Read 5 free articles per month without a subscription
Join now for unlimited access
Try first month for just £1 / $1 / €1