Oldham continues National Trophy bid on Sunday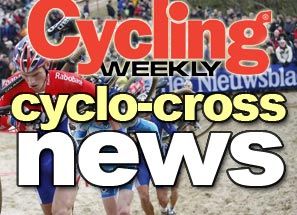 National Trophy Series leader Paul Oldham resumes his bid for the 2011-12 title when round three is staged at Southampton Leisure Centre in Hampshire on Sunday.
The Hope Factory Racing rider from Colne in Lancashire is eight points ahead of rival and reigning series champion Jody Crawforth (Hargroves Cycles), after finishing second behind foreign visitors but ahead of Crawforth in third.
Last year at the same venue, Crawforth took second at Southampton behind Ian Field, while Oldham was third, just three seconds off the pace.
The pair will renew their rivalry this Sunday, but with plenty of foreign interest in this round again, a maximum 50 point haul is not guaranteed for either.
Round two winner Jelle Brakman (Van Der Vurst CT, Belgium) is back in search of a second consecutive victory, while also returning is fellow Belgian Kenny Geluykens (Asfra RT) who has finished fourth in the last two rounds.
In the women's event last year's series winner Hannah Payton (Kinesis Morvelo Project) was pushed into second spot at Southampton by Hannah Barnes, but this time she will be looking out for Yorkshire-based Adela Carter (WXC Mountain Bike Team UK) who leads the early overall standings by just eight points, the pair having one victory each so far.
In the veterans race, James Bryan (Zepnat RT) will start as favourite to take a third consecutive victory, but having won the first two rounds by just seven seconds and eight seconds respectively, he will be pushed all the way by his rivals.
Elsewhere, Lincoln's Mark Cotton will be aiming to get back to winning ways in the Lincolnshire League when Boston Wheelers stage round eight at Ostler's Plantation at Woodhall Spa.
He was beaten into third place in last weekend's seventh round after a run of six consecutive victories, but will start as favourite to take the win in the senior event which starts at 12.15pm.
Sylvain Garde (La Fuga-Sigma) will be aiming to preserve his lead in the Mosquito Bikes London League on Sunday, when VC Jubilee stage round eight at Stanmer Park in Brighton.
Doubling up as the second round of the Sussex League, the event will see Garde renew his battle with Matt Webber (London Phoenix) and Gary Record (Bike Tarts).
North of the border, Gareth Montgomerie (GT Racing UK) secured a second victory in The Tri Centre Scottish Series last weekend, and he will be aiming to consolidate his lead in the overall rankings when round five is staged by East Kilbride RC in Motherwell this Sunday.
After finishing on the podium in five of the first six rounds, Welsh League leader Joe Lally (CC Abergavenny) will be aiming to continue his run when round seven is held at Pembrey Country Park in Dyfed on Sunday.
Blackhawk Bikes team-mates Ken Haswell and Alan Nixon are expected to renew their rivalry in the seventh round of the Cyclo-Cross North East League at Durham University Cricket Club on Sunday.
Early league leaders Haswell has beaten Nixon three times so far this season, while on other CXNE courses Nixon finished better than Haswell twice - including the last round at Gallagher Park three weeks ago.
This weekend's events
Saturday, November 12
Derby Mercury RC/SRAM Notts and Derby League - Round nine, Sinfin Park, Derby, 12noon.
Geoff Bewley Memorial/North West League - Round 10, Otterspool Park, Aigburth, Liverpool, 11am.
Sunday, November 13
National Trophy Series - Round three, Southampton Leisure Centre, 10.30am.
Icknield RC/Central League - Round seven, Icknield High School, Luton, 11am.
Boston Wheelers/Lincolnshire League - Round eight, Ostler's Plantation, Woodhall Spa, 10.30am.
VC Jubilee/Mosquito Bikes London League - Round eight (Sussex Lge R2), Stanmer Park, Brighton, 11am.
MTS Cyclesport/Cyclo-Cross North East League - Round seven, Durham University Cricket Club, Durham, 10.30am.
Rhyl Cross/North West League - round 11, Marsh Tracks, Rhyl, 11am.
East Kilbride RC/The Tri Centre Scottish Series - Round 5, Strathclyde Park, Motherwell, 10.30am.
Bynea CC/Welsh League - Round seven, Pembrey Country Park, Dyfed, 10.30am.
Dream CC/Western League - round seven, Hengrove Park, Bristol, 10.30am.
Yorkshire Go Cross - Grange Moor, Wakefield, 11am.
Related links
West Midlands win inter-area cyclo-cross champs