Oleg Tinkov: Sponsors should own cycling teams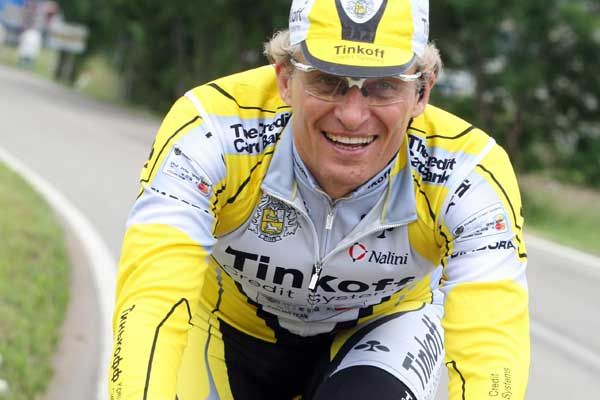 Cycling is better off with sponsors owning the team, according to team Tinkoff-Saxo owner Oleg Tinkov. He added that managers should not be balancing team direction with financial work.
"It's not the right model when you have the general manager looking for money 80% of the time and spending only 20% running the team," Tinkov told Cycling Weekly. "I believe the model of the owner of the team that pays the bills is much more proper."
The Russian businessman went from co-sponsor to owner last month when he bought Bjarne Riis' Saxo Bank team. Riis now solely manages the riders.
Tinkov pointed to BMC Racing and Katusha. He said that those are similar "proper models" for teams. They contrast with Garmin-Sharp or the Dutch team of Iwan Spekenbrink, who today announced that Giant bicycles saved the team by taking over sponsorship. The Argos petroleum company left and another sponsor was due to arrive but never materialised. It created a risky and uncertain situation for the team with sprinters Marcel Kittel and John Degenkolb.
"It gave the team a lot of stability," Tinkov said of his purchase.
"When the owner pays the bill it's much better so the DS can spend time with the team - training, rider selection, so on. It's like Chelsea's José Mourinho, he's the best coach but he's not looking for money, he's looking for good players. He's thinking about the strategy of the team and the game, the competitors. That's the proper model of cycling. I'm glad that cycling's started to change."
'Owner'
Tinkov said that the licence holders or team owners actually own little. What they have, he explained, is liability.
"They are 'owners' in quotes. What do they own? They own nothing in reality, just team buses and cars, and liabilities," Tinkov said.
"All the colleagues of Bjarne ... should [sell their teams]. [Bjarne] sold the team, got a good chunk of money for himself. I think that's the way it should be. I don't think ex-riders should be owners of the team. They can be very good sports directors but not owners.
"That's the perfect model for cycling. That's the future."
La Gazzetta dello Sport reported in November that Tinkov paid Riis £4.97 million (€6 million) for the team's first division licence.
Related links
Oleg Tinkov buys Saxo-Tinkoff, becomes Tinkoff-Saxo for 2014