One Pro cycling disband men's squad to focus on new women's team in 2019
Founder of the UCI continental team says that women's cycling represents the greatest opportunity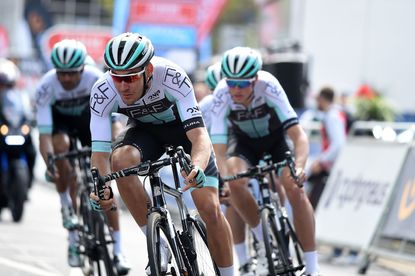 (Image credit: Andy Jones)
One Pro Cycling has announced that it will not run a men's team in 2019 - instead turning its efforts to women's cycling with the aim of creating a roster that will compete at UCI Women's WorldTour races.
One Pro made the announcement on Saturday, commenting that they believed the greatest opportunity now "lies within the women's side" of the sport.
The team was founded by ex-cricketer Matt Prior in 2015 - the goal was always to target the WorldTour.
However, after registering as a Professional Continental team in 2016, they returning to the Continental ranks for 2017 - partially due to bike sponsor Factor moving on to AG2R La-Mondiale.
In a statement published today, One Pro said that its women's team would be finalised no later than the "end of September," however with contracts being announced daily, time is certainly ticking.
Fleshing out the currently limited information available, the team statement said: "We see the opportunity within the women's side of the sport and this is something that is very exciting. Our existing partners have been notified and the change of direction has been met with great positivity."
They added: "One Pro Cycling has always been about effecting positive change in the sport of cycling that goes far beyond winning bike races. We believe that the greatest opportunity to do this now lies within the women's side of the sport and our passion and ambition has only increased to make this change of direction a success."
Speaking to the Telegraph newspaper, Prior said that men's cycling was not in a "healthy place" adding that he was "not sure" how many domestic teams would be able to continue.
"The reality is we are unable to compete in men's cycling at the moment," Prior told the Telegraph.
"You'd need £15 million minimum to be competitive at World Tour level, which is where we want to be, and even that would be £20million below what Sky have. But for a fraction of that money - maybe £1.5m - you could have a very competitive women's World Tour team."
The announcement comes soon after Aqua Blue Sport made headlines following its closure, and shortly following discussions around introducing a maximum budget which would restrict top teams from buying out the competition.
>>> Trek Factory Racing women's team DS on the 2019 ambitions
One Pro's new women's squad will join the WorldTour ranks in the same year as the big budget Trek Factory Racing team, which will be fronted by Lizzie Deignan on her return to racing.
Thank you for reading 20 articles this month* Join now for unlimited access
Enjoy your first month for just £1 / $1 / €1
*Read 5 free articles per month without a subscription
Join now for unlimited access
Try first month for just £1 / $1 / €1