Parlee Cycles in trouble, files for bankruptcy
The 23-year-old bespoke brand, a leader among American bike manufacturers, in need of reorganization or partnership to survive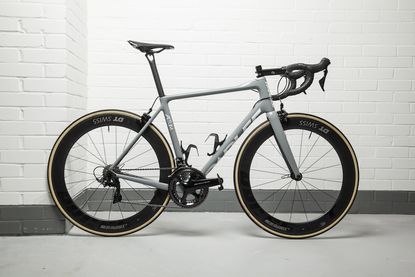 (Image credit: Future)
The high-end American bike brand, Parlee Cycles, seems to be in trouble as it filed for a voluntary bankruptcy this month, according to public court documents.
The 23-year-old brand, renowned for its custom carbon frames with superb ride quality, filed for a Chapter 11 bankruptcy in the state of Massachusetts on February 6, 2023.
In the United States Bankruptcy Code, a chapter 11 bankruptcy is also known as a "reorganization" bankruptcy. This means that the company is in debt but can propose a plan of reorganization — usually involving a partnership or corporation of some kind— to keep the business alive and pay creditors over time.
Cycling Weekly has contacted Parlee Cycles for a comment but at this time it is unknown what the future of the Parlee brand holds.
Parlee Cycles was started in 2000 by longtime boat builder Bob Parlee and his wife, Isabel.
Bob, an avid cyclist and amateur racer, had been molding and fine tuning carbon fibers for two decades, shaping them in beautiful and strong vessels, before blending his profession and passion to create carbon bicycle frames. He'd been underwhelmed by the titanium frames he'd been riding and racing in the 1990s and thought the future of bikes lay in carbon.
"I understood the capabilities of composite materials. Carbon fiber was the obvious choice to take performance bikes to the next level, but this incredibly capable material wasn't being utilized to its full potential," Bob Parlee states.
"Carbon fiber opens up a world of opportunity when it comes to optimizing tube sizes and shapes. We can fine-tune properties such as weight, strength, durability, and compliance. By perfecting lay-up schedules and molding techniques, we can create lighter, faster, more comfortable bikes."
What started as a bespoke, one-man shop soon grew into a highly desirable race frame manufacturer with a collection of both custom and stock models and international distribution.
Parlee Cycles was among the first brands to produce fully customizable carbon fiber road racing frames, which were soon raced the world over. In 2004, Parlee set the bar of lightest carbon frame when it broke the sub-900 gram mark. Parlee was also one of the first builders to offer an aero bike and became an early adopter of disc brakes for road use. In 2010, it broke its own standard when it introduced the Z5 model, a frame that weighs in at sub-800 grams.
By then the company was no longer making all its frames by hand in Beverly, MA. To reach a wider audience, Parlee designed several stock, molded monocoque frame models, which are manufactured in Asia but still delivered in terms of ride quality and certainly in pushing the weight barriers.
Parlee has come out with a new or updated version yearly, and these days, the Parlee line-up includes everything from handbuilt Made in the USA dream bikes and stock ultra-stiff road racers to load-carrying adventure steeds and slick time trial machines.
Parlee is an enigmatic brand that has won many industry awards, earned fans all over the globe and probably produced more custom bikes than any other U.S. brand. Their struggles are certainly an alarm bell for the American cycling industry.
We'll update the story as more information becomes available.
Thank you for reading 10 articles this month* Join now for unlimited access
Enjoy your first month for just £1 / $1 / €1
*Read 5 free articles per month without a subscription
Join now for unlimited access
Try first month for just £1 / $1 / €1
Cycling Weekly's North American Editor, Anne-Marije Rook is old school. She holds a degree in journalism and started out as a newspaper reporter — in print! She can even be seen bringing a pen and notepad to the press conference.
Originally from The Netherlands, she grew up a bike commuter and didn't find bike racing until her early twenties when living in Seattle, Washington. Strengthened by the many miles spent darting around Seattle's hilly streets on a steel single speed, Rook's progression in the sport was a quick one. As she competed at the elite level, her journalism career followed, and soon she became a full-time cycling journalist. She's now been a cycling journalist for 11 years.