Pilkington sets new record in Waller Pain hill climb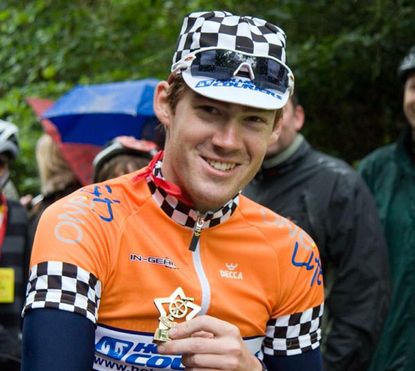 Matthew Pilkington (Progressive Cycle Coaching Development) set a new course record at the second running of the Waller Pain Hill Climb in Caterham, Surrey, on Sunday.
Defying the wet and slippery conditions on the 0.31-mile town-centre course up Waller Lane, Pilkington shaved 12 seconds off the marker set by Hal Bransby (Addiscombe CC) last year.
Simon Richardson (Norwood Paragon) came second with 1-20, and Bransby third at 1-22.
Alex Conway (VC Londres) placed ninth overall to clinch the men's under-16 title, with Molly Cooke winning the under-16 women's category.
Part of the spirit of the Waller Pain is that anyone is welcome to take part in the event and not just club riders. Accordingly, Aaron Moss won the open 'Fat dad' title with Lizzie Elliot bagging the 'Fit mum' trophy. Elliot also won the women's category overall.
Waller Pain Hill Climb 2011: Men

1. Matthew Pilkington (Progressive Cycle Coaching Development Squad) in 1-14
2. Simon Richardson (Norwood Paragon CC) 1-20
3. Hal Bransby (Addiscombe CC) 1-22
4. Ben Pearce (Tri Project) 1-39
5. Nigel Wynn (Cycling Weekly) 1-42
6. Patrick Trainor (Norwood Paragon CC) 1-43
7. Geoff Dillon (Crystal Palace Tri) 1-46
8. Grant Georgiades (Crystal Palace Tri) 1-52
9. Alex Conway (VC Londres) 1-55
10. Adrian Blacker (Unattached) 1-58
'Fit mum'/Women
1. Lizzie Elliot in 6-28
Under-16 men
1. Alex Conway (VC Londres) in 1-55
Under-16 women
1. Molly Cooke in 4-10
Fastest 'fat dad'
1. Aaron Moss in 2-35
Aaron Moss, 'dads' winner with tasty T-shirt
Alex Conway, under-16 winner
An emotional Lizzie Elliot collects her prizes from organiser Scott Georgiades of Caterham Round Table


New course record holder Matthew Pilkington
Related links
Waller Pain hill climb returns for 2011
Thank you for reading 5 articles this month* Join now for unlimited access
Enjoy your first month for just £1 / $1 / €1
*Read 5 free articles per month without a subscription
Join now for unlimited access
Try first month for just £1 / $1 / €1