The best cycling books that every cyclist should read
How to start your own collection of bike related literature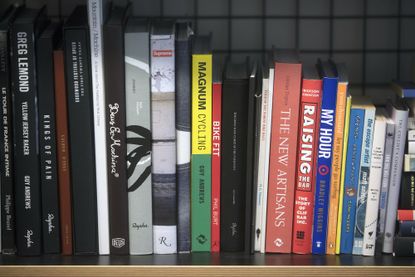 (Image credit: Getty Images)
As a cyclist, most of your time is probably spend either riding or thinking about your next ride. To get your riding fix when not on the bike, pick up one of the best cycling books to magic you off an imaginative one, a historical one, a political one or even just help you plan your next one.
Our favourite cycling books cover a vast array of everything to do with bikes, from the thrilling to tragic tales of life on two wheels, or even all about the history of one of The Monuments, one of cycling's classic one-day bike race. From inspirational adventures across the world, learning bike maintenance, or discovering nutrition for cycling .
Even if you have one of the best road bikes, have absolute everything you need to go bike packing, and know all about the benefits of cycling, there's a brilliant cycling book out there just for you.
We've just selected a handful of our favourite books here, but keep checking back as more are added all the time.
Best Pro peloton cycling books
Full Gas by Peter Cossins
Best cycling book for explaining race team tactics
Specifications
First published : 2018
Pages: 336
Acclaim: Telegraph Sports Book Awards 2019
Reasons to buy
+
Cycling enthusiasts who want to understand intricacies of bike racing at a professional level
Reasons to avoid
-
Might cover old ground for seasoned riders and racers
Winner of The Telegraph Sports Book Awards Cycling Book of the Year 2019, Full Gas is a look inside the tactics of the professional peloton and the decisions made by directeurs sportifs during some of the most important races.
This is the perfect cycling book for anyone wanting to level up their understanding and knowledge of the sometimes confusing carnival of racing.
While other books such as Wide Eyed and Legless tell the tale of the race, this book strips back the racing and explains why it's not just the strongest rider who can win on the day.
Everything you wanted to know about bike racing from the tactics, breakaways, bluffing, highs and the lows, highlighting memorable moments in history when these have been deployed at their finest.
Magic Spanner: The World of Cycling According to Carlton Kirby by Carlton Kirby
Best cycling book for an alternative view of the great bike races
Specifications
First Published : 2020
Pages : 256
Acclaim : Shortlisted for the Telegraph Sports Book of the year 2020
Reasons to buy
+
A light-hearted easy read from a unique view of the worlds greatest bike races
+
Full of anecdotal untold tales from behind the scenes
Reasons to avoid
-
Calton Kirby's book, is like his commentating.
As someone who has commentated the biggest bike races in the world for quarter of a century, you can imagine there are a few tales to tell.
The behind the scenes view of races is a easy reading alternative look at the top races, full of amusing and unbelievable stories.
In classic Carlton style, you can wonder if he's at the same bike race as you, but does dish the dirt on his co-commentators and some of the less than expected moments to life in the caravan.
Compared to the darker or harder behind the scenes look at bike racing like that found in Racing Through the Dark or Wide Eyed and Legless, this really is the antidote.
But I'm warning you now, if you're not a fan of his commentary, you probably won't be a huge fan of the book
The Secret Race: Inside the Hidden World of the Tour de France: Doping, Cover-ups and Winning at All Costs by Daniel Coyle and Tyler Hamilton
Best cycling book for a compelling exposé
Specifications
First published : 2012
Pages: 384
Acclaim : Winner of the William Hill Sports Book of the Year
Reasons to buy
+
A compelling, and unbelievable read, even if you thought you knew all the detail beforehand.
+
Exceptional detail of doping and the personalities involved
+
A true story that leaves no stone unturned
Reasons to avoid
-
The truth hurts, and it can leave you feeling depressed with the sport
-
No surprise ending and could be considered dated.
Winner of the William Hill Sports Book of the Year Award.
An open book style confession, that is considered by most of the top Pro Cycling journalists as the real truth behind some of Lance Armstrong's Tour de France wins.
In the no holds bared telling of his story, Hamilton reveals all to Daniel Coyle in in turn captures the extreme detail in a compelling and easy to understand page turner.
It gives the foundation for understanding why the likes of David Millar and Thomas Dekker fell in to the dark side of performance enhancing drugs, better than they could do themselves in their own autobiographies.
Reading after the tale of Marco Pantaini will make for auditable sighs and how did nothing get learnt. Truth hurts, but that's not to say it should be avoided.
It's an old story now, but still one of the best cycling books to read as modern day cycling. Although, be warned, if you're new to the sport, or a young whippersnapper, this can be depressing reading.
Worth following it up with a motivational read of Where There's a Will by Emily Chappell or if you really need an easy slapstick routine then dive immediately in to Magic Spanner by Carlton Kirby
Wide-Eyed and Legless, Inside the Tour de France by Jeff Connor
Best fly-on-the-wall cycling books
Specifications
First published : 1988
Pages : 192
Acclaim: TBC
Reasons to buy
+
A unique view behind the scenes tell all
+
A who's who in modern cycling history
+
Funny and riveting read
Reasons to avoid
-
A historical story, which needs to be read with the timeframe in mind
-
British team focused which might be not as engaging for some readers
This fast paced true story follows the first British team to enter the Tour de France, and makes you realise why Team Sky going on to win the race two decades later was such a big achievement.
The behind the scenes look at team ANC Halfords was captured by an journalist Jeff Connor who was with the team for the toughest ride of their life.
It's a who's who guide to the cycling industry, an understanding on cycling politics and an understanding of where many of today's commentators, team managers and performance coaches made their cycling careers.
Unlike the likes of The Secret Race or Magic Spanner, this book captures just three weeks in 1987, and deep dives in to the personalities and how they evolve over the highly pressurised and stressful challenge. While there's significant stage setting as to what was happening on each stage of the race, to set the scene each chapter, the the main fest is how the team survive the huge endurance event. There's also just enough backstory of each character to explain how they came to be part of ANC Halfords.
This white knuckle ride has both laugh out loud and cringe moments when you hear how different races were, what was considered acceptable behaviour back then.
What is clear is how much the world of the pro peloton has shifted in the interim years as ANC Halfords scrimp enough funding to pull a team together, with questionable road worthy equipment and an all hands on deck approach that sees the author becoming more and more involved, even playing important roles within the team to help out.
Based on a British underdog team, it might not capture readers looking for a star studded read. But if you're after eye-opening fast paced true story, this is by far one of the best cycling books you will read.
Riding in the Zone Rouge by Tom Isitt
Best cycling book on post first world war racing
Specifications
First Published : 2019
Pages : 320
Acclaim: TBC
Reasons to buy
+
A poignant story of and incredible unknown race
+
Exacting detail of the battle fields of northern Europe
+
Gripping and emotional rollercoaster of laugh out loud to shedding a tear
+
Understanding the incomprehensible conditional of racing and living
Reasons to avoid
-
Exceptional detail means it can be tricky to locate race at times
-
Author's own calamities in riding can grate on reader
The little know 1919 Circuit des Champs de Bataille that was held just six months after the Armistice, but before the official end of the first world war with the signing of the treaty of Versailles.
The story tells of the incomprehensible 2000km, 7day stage race around Northern France, Belgium and Luxembourg, April 1919.
Based on extensive research, newspaper reports and official race documents, the story is interwoven with the author's own attempt to compete the route, although be warned, Tom Isitt is by far a better story teller than cyclist.
Isitt has painstakingly captured the exacting details of locations, terrain, sights, noises and even smells from a time when the race was held, which can make for incredibly hard reading at the injustice of war.
While you are taken on a journey back in time, you can find yourself having to pause, zoom out from a mental map, to study a real one and refer back to riders and their positions as I struggled to mentally hold all the detail at times. It's worth noting that I also struggled with this when reading Wide-Eyed and Legless, so I can depend if you are good at retaining and juggling all the information.
Isitt's own cycling attempts do leave a lot to be desired, and while some is amusing, lightening the desperately sad period in history, it can sometimes tip a little too far in to the Carton Kirby Magic Spanner arena of comedy.
If you open the book having never heard of the race, you'll close it feeling incredibly educated on the first world war, cycling history, and knowing that you've never really had that hard a day on a bike.
If you want to know really what the toughest bike race in the world is, it's without a doubt Circuit des Champs de Bataille. This is one of the most exceptional cycling books you will ever read.
Best Autobiography / Biography cycling books
Racing Through the Dark: The Fall and Rise of David Millar by David Millar
Best cycling book for understanding why some riders fall in to doping
Specifications
First Published: 2011
Pages : 368
Acclaim: Sunday Times best selling
Reasons to buy
+
Understanding how and why some pro riders choose to break the law
+
A prequel to understanding the formation of Team Sky
Reasons to avoid
-
Fans of cycling aren't given closure and can be left feeling disappointed by heroes of the sport.
A first-person look inside the inner workings of the pro cycling scene in what we might call the dark age of the sport.
This is a story of David Millar starting out as a pro in France, high hopes and lots of pressure along with partying a bit too hard, led to him being pushed towards the dark road of doping.
Doping for money and glory to keep his status, Millar was arrested when it was discovered that he was using performance enhancing drugs. Five years on, Millar wrote this book and opened up about his dark days.
As an autobiography, and while it's an honest account of his actions , it's nothing like The Death of Marco Pantani biography, and highlights the differences between addition and performance enhancing drugs.
That said the it's one of the best cycling books that gives the reader an insight in to why decisions were made, there's a lack of ownership and no real soul searching as to why his moral compass pointed him in the direction of doping. I was left feeling disappointed that the playing field is still, 16years later, not level, and a lot of young riders careers were/ and still are dashed because of it.
It would be nice to see an update of how Millar has used his platform and given justice to all the silent voices that suffered as a result of his decisions, as the book still feels unfinished.
One-Way Ticket: Nine Lives on Two Wheels by Jonathan Vaughters
Best cycling book for first hand deep dive in to the professional peloton
Specifications
First published : 2019
Pages : 320
Acclaim : TBC
Reasons to buy
+
Anyone wanting to get underneath the glamor of the big races and understand what it's like to feel the pressure of a rider and now manager
Reasons to avoid
-
Lots of similarities to David Millar book
-
A lot of pointing fingers that some fans could find tiring.
Former prorider and current EF Education-EasyPost Cycling manager, Jonathan Vaughters, writes about his career as a rider and how he went from a driven young rider to Tour de France stage winner, determined to make it big in Europe whatever the costs to his descent into doping.
Vaughters goes into detail about his career and what drove him to eventually come clean and give information to the USADA (US anti-doping), leading to the admission of doping from Lance Armstrong.
The second half of the book talks about his role as a team manager and the demands and pressures behind how to make a professional cycling team a success. It covers a lot of behind the scenes, almost picking up on where David Millar's book finishes with how the impact of early Team Sky, namely Dave Brailsford and Bradley Wiggings, the impact on the rest of the peloton and fall outs of riders and team managers along the way.
The Death of Marco Pantani: A Biography by Matt Rendell
Best cycling book for understanding the tragic life of one the cycling greats
Specifications
First published : 2006/ 2015
Pages : 384
Acclaim : Shortlisted for The William Hill sports book, National Sporting Club Book of the Year
Reasons to buy
+
Detailed and compassionate telling of the life of one of the most charismatic professional riders
Reasons to avoid
-
A hard read and tragic tale that at times can be hard to comprehend.
To any cycling fan Marco Pantani will still be considered on of the best riders the world has ever known.
This is the best cycling book that tells the story of how Italy's most loved sporting greats excelled in winning races, being one of the only riders to challenge the now disgraced Lance Armstrong, and sadly met his end.
If you don't know this tragic story, then this really is a must read. Even if you know it but haven't read this book, then do as it gives such a detailed insight as to how it happened and why. Now updated with the 2014/15 investigation into his death.
A compassionate tale, which left me in bits as to how lonely he really was and how unforgiving addiction can be. Unlike the Racing Through the Dark: The Fall and Rise of David Millar or Thomas Dekker The Descent, which are tales of calculated risk, this isn't a story of just another doper. The a moving and sometimes difficult read of a vulnerable person who was let down multiple times. A hard read, but a must read.
Eddy Merckx: The Cannibal by Daniel Friebe
Best cycling book for Merckx facts and figures
Specifications
First Published: 2012
Pages: 384
Acclaim: TBC
Reasons to buy
+
A concise summary of the Godfather of cycling
+
A fact gathers dream book, that is a must read for any budding mastermind
Reasons to avoid
-
Only a small input from Eddie Merckx himself
-
A lot of strong competition for books on on the famous rider, so this doesn't shine as brightly as it once did
A factual biography of Eddy Merckx, arguably the greatest rider of all time, his early life and how he went on to dominated his rivals for 14 years as a professional cyclist.
This is the must have cycling book for anyone who loves the stats, as well as the highs and lows of his time in the pro peloton.
Riding at what some consider the 'golden age' of cycling, he was surrounded by big personalities, unbelievable human endeavours and questionable performances of elite cyclists.
Pre Pantani, but post the war years of cycling, which are captured in Riding in the Zone Rouge, this is another important read to fully understand how the top riders are considered superstars, and how much pressure there was to perform.
Best adventure cycling books
Where There's a Will by Emily Chappell
Best cycling book for adventure inspiration
Specifications
First Published : 2020
Pages : 288
Acclaim : Longlisted for William Hill Sports Book of the Year 2020
Reasons to buy
+
Inspiring you to listen to your heart and take on an adventure of a lifetime on two wheels
+
A unique voice and story from an often unheard non-typical cyclists.
Reasons to avoid
-
No thrilling race finish, cut throat deals, celebrity names or scandals might make it to gentle for some
From humble cycling courier to un-expected world class endurance athlete. Emily's love of being on two wheels has taken her further and pushed her harder than she ever dreamed possible.
A gruelling race across Europe, completely unassisted, in the shortest time possible, left her with unfinished business after her first attempt ended prematurely with her waking up on her back in a field through sheer exhaustion.
Back a year later to take on the challenge again, this story tells of how she made it up mountain passes, cascaded down the other side, got 20 minutes kip outside a village, and gave her all battling against self-doubt, confusion, sleep deprivation and desperation.
Unlike Around the world in 80 days by Mark Beaumont, this is a more humble account of a journey that could just be that book to change your life (most likely how to quit the rat race and follow your calling).
A must read for anyone wanting to read a beautifully written account of how perseverance and following your heart is really all that matters.
Around the world in 80 days by Mark Beaumont
Best cycling book for capturing a remarkable adventure
Specifications
First published : 2018
Pages : 416
Acclaim : TBC
Reasons to buy
+
A unique first person view, which captures the trials and tribulations of a huge undertaking
+
Feel good story to whisk you on a journey in your mind.
Reasons to avoid
-
Mental load trying to work out exactly his route, worth having a world map to hand.
-
Feels self inflicted punishment, which can counter out any tail of hardship on the bike.
-
No surprising edge of seat finish
It's a record with such a nice ring to it that it almost feels obvious, just inevitable, that of course someone would circumnavigate the globe on a bike in just 80 days.
But when it's broken down, the achievement becomes increasingly incomprehensible. First is the boldness and the uncharted territory – Mark beat the previous record by a whopping 44 days, it marked a complete paradigm shift in our conception of what's humanly possible.
Then there's the distance – very few of us could ride 240 miles in one day in the first place. Doing that distance week after week for the best part of two and a half months is on a complete other level.
But perhaps it's the time that's the most startling part of the achievement. Each day Mark would ride four sets of four hour blocks, making for a 16 hours of riding – not including any stops or breaks. It was a feat of mental fortitude just as much as physical.
How do you get funding for such a ride? How do you organise the logistics? Although the ride itself is staggering, in a way that was actually the most straightforward part of breaking the record. Around the world in 80 days lifts the veil on what it takes to organise as well as execute a world record
Best cycling nutrition, training and tech books
Start At The End by Dan Bigham
Best cycling book for support with goal setting
Specifications
First published : 2021
Pages: 320
Acclaim: TBC
Reasons to buy
+
Anyone wanting to achieve a goal, whether cycling related or not
+
A step by step guide
Reasons to avoid
-
Not specifically cycling related
-
A system approach that requires reader input
Dan Bigham made a name for himself leading an amatur Britsh track cycling team to competition at the highest level, beating multi-million-pound teams and winning multiple UCI Track World Cups.
Currently, he's riding for the UCI Continental team Ribble Weldtite and working for Ineos Grenadiers as a race engineer, helping the team's riders improve their aerodynamic performance.
Unlike other books to fall out of working with the Pro Peloton, such as the Magic Spanner by Carlton Kirby, this isn't a kiss and tell or just cycling specific.
Through Start at the End, Dan uses his own experiences, as well as case studies from other sports and the world of business, to demonstrate how this approach of reverse engineering can be applied and help in any aspect of life.
Dan takes you through each stage of the process, from setting goals and accessing your tools to crystallising a plan and, ultimately, executing it. It's full of anecdotes and details to keep an avid cyclist happy, whilst also being broad enough for a general audience.
The Cycling Chef: Recipes for Performance and Pleasure by Alan Murchinson
Best cycling cook book
Specifications
First published : 2019
Pages: 192
Acclaim: UK winner - Gourmand World Cookbook Awards 2020
Reasons to buy
+
65 mouth watering easy to make recipes from the Michelin-Stared chef
+
Nutritionally balanced and ideal proportions
+
Rave reviews from Pro Cyclists and world renowned chefs
Reasons to avoid
-
Vegans and Vegetarians/ other dietary requirements might struggle to swop some ingredients
-
A quick meal guide would be helpful
A well-balanced diet is fundamental to cycling performance. Without the right balance of carbs, protein and vitamins, along with fats and sugars – yes, those two are vitally important to have in the right quantities – your training and progression will be compromised.
You could just eat by numbers, consuming the correct quantities of all those nutrients in a bland and unappetising ways. Or read this cookbook and you could combine them in ways to make your taste buds tingle and relish your meals whilst maintaining a balanced diet, although you might struggle to find alternative ingredients for dietary requirements.
Alan Murchinson is a Michelin-starred chef and sports nutritionist, as well as a talented amateur athlete in his own right – winning becoming World Sprint Duathlon Champion in his age group in 2013, 2014 and 2015.
In his book, The Cycling Chef, Murchinson provides recipe after recipe of delicious dishes which have been designed to hit all the right food groups in the correct proportions. The chicken sausages with spicy bean cassoulet and crispy polenta are a particular favourite, closely followed by the smoky roast red pepper, chorizo and quinoa soup. Many are quick to rustle up, but a handy key or code for the under 30minute recipes would be helpful.
It's the cookbook that team Halfords-ANC, from the book Wide Eyed and Legless, could have done with at their first attempt of the Tour de France, over the 'grease and fat' they were accused of eating.
Some big names have also been impressed such as Elinor Barker, multiple world champion and Olympic gold medallist, who's said: "Alan has completely changed my perception of what an athlete's diet can look like."
Also Alex Dowsett, former World Hour Record Holder and national champion: "Alan's food is simple, yet tasty and powerful. He's been a key component for my training and racing."
Best cycling books and how to find them
You can trust Cycling Weekly. Our team of experts put in hard miles testing cycling tech and will always share honest, unbiased advice to help you choose. Find out more about how we test.
Finding the best cycling books for you will depend on a whole host of requirements, from what subject you are interested in, to period in history, or even authors.
The great news is that this is just a small list of some of the fantastic books about cycling out there, and we aim to keep this list as our favourite reads across a variety of categories.
If you have a favourite book that isn't listed, please share the recommendation with us via our About Cycling Weekly get in touch page and we'll add it to our list of must reads and let you know if we too think it's one of the best page turners.
What are the best cycling books?
Where do I start with my bike related library?
As mentioned above, this really depends on you as a reader and what your cycling interests are.
If you are new to cycling, ensure you bookshelves contain at least one bike maintenance book, a demystifying racing book, Full Gas by Peter Cossin, would be my pick here, and a motivational read, Where There's a Will by Emily Chappell for sure. I also would dive in to the history of bike riding, I recommend Riding Through the Zone Rouge by Tom Isitt as it's a race come history lesson that will stay with you long after you close the book.
If you've got the basics already, make sure you invest in a few autobiography's or biographies. There's several I would struggle to pick from, but if I was pressed to select just one it would have to be The Death of Marco Pantani: A Biography by Matt Rendell.
Where can I buy the best cycling book?
Will my local book shop or on-line store have them?
Most of our listed books are available at any decent book shop, although you will probably have to get a special order in for some.
Kindle has a great selection of cycling books, which can make for a lighter load if you are a commuting reader, as some of the books can be a few hundred pages to carry round, although most are now available in paperback.
How to make time to read
Where do I squeeze in time to read a book?
We all know the benefits of turning off the phone scrolling and taking time out to read, especially when it is one of the best cycling books. From better concentration to just mental relaxation, but finding time to read can feel like a privilege, and often a luxury over a necessary.
Like any habit, it's a matter of repetition and little and often, but here's some quick tips to help you along the way:
1. Read before lights out. Stop the scroll and pick up the book, it will help you mentally adjust ready for sleeping.
2. Wake up 15minutes earlier and read first thing in the morning. Some of the best cycling books can be thrilling, so not contusive to sleep. Inspiration reads can put a spring in your step or a tail wind on your back for the rest of the day.
3. Always carry your book. This is where Kindles are great as the keep the bulk down. If you prefer the real deal, opt for a paperback version.
4. Find a book buddy. Nothing more motivational to read than the threat of them revealing spoilers ahead of where you're up too. It also gives you chance to digest and work through the story line, especially if it's a thrilling, funny, or sad plot.
5. If you can't read, then listen. I'm a big fan of audio books and can get through several while travelling, when it's a driving commute, or even when at home working through the household chores.
Hannah is Cycling Weekly's longest-serving tech writer, having started with the magazine back in 2011. She has covered all things technical for both print and digital over multiple seasons representing CW at spring Classics, and Grand Tours and all races in between.
Hannah was a successful road and track racer herself, competing in UCI races all over Europe as well as in China, Pakistan and New Zealand.
For fun, she's ridden LEJOG unaided, a lap of Majorca in a day, won a 24-hour mountain bike race and tackled famous mountain passes in the French Alps, Pyrenees, Dolomites and Himalayas.
She lives just outside the Peak District National Park near Manchester UK with her partner, daughter and a small but beautifully formed bike collection.