Swappable fork and dropouts means this bike can be used for both road and cyclocross
The 8bar Mitte aims to tick all the boxes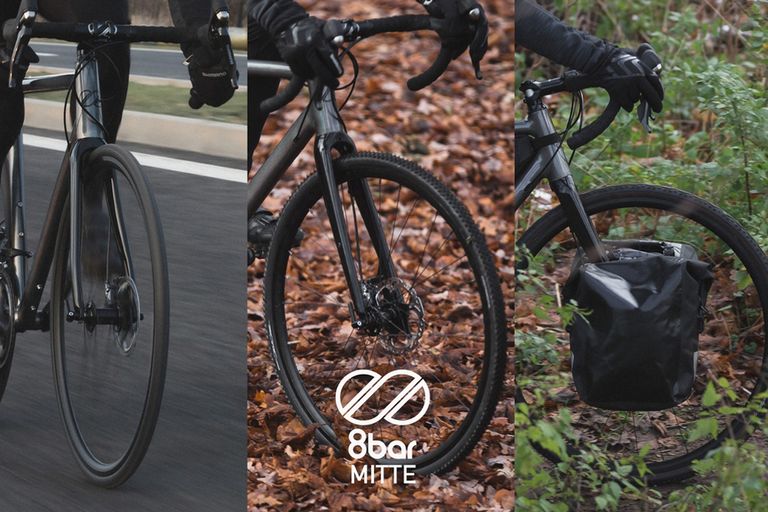 N+1 (where N is the current number of bikes owned) might seem like the ideal number of bikes to have in the stable, but unfortunately practicalities like a lack of necessary storage space and the desire not to destroy personal relationships can get in the way of this goal.
>>> How would you improve the design of a road bike?
One solution to this is the 8bar Mitte, which can be converted from a road bike into a cyclocross bike or adventure bike by swapping the fork and changing the position of the rear dropouts. Making these changes will alter the 8bar Mitte's standard road geometry and give it slacker head tube and seat tube angles, a longer wheelbase, and great tyre clearance in an attempt to make it rideable off road.
8bar claims that changing between different setups takes just 15 minutes, although we're not sure whether this includes and changes that need to be made to chain length and swapping the disc brakes between the different forks.
>>> This Kickstarter campaign has a very clever way of stopping your wheels getting stolen
The bike will be offered in two different builds. The Comp version will cost €1798 (~£1410) and will be equipped with Shimano Tiagra, while the Pro version will cost €2398 (~£1880) and will have Shimano Ultegra as well as other upgrades to the finishing kit. All versions of the bike will come with Shimano hydraulic disc brakes.
However, one of the benefits of Kickstarter is that it gives you the opportunity to snap up early bird offers at a hefty discount, and there are a range of such deals available for the 8bar Mitte. That said, the project has proved extremely popular, hitting its €20,000 target in just days and is now moving towards its €50,000 "stretch target", meaning that most of the best deals have already been snapped up.
>>> The best gravel and adventure road bikes
If you do decide to invest, then the German company expects to ship its bikes from September, so you should have your new bike just in time for the cyclocross season.