Bike prices set to rise next year by as much as 15% following Brexit
Following the drop in the value of the pound, bikes imported to the UK are set to be more expensive next year. So perhaps now is the best time to buy a bike?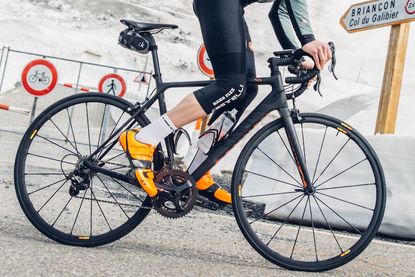 Following the referendum in which the UK voted to leave the EU, the pound has dropped in value significantly against both the euro and dollar.
Uncertainty in the markets has seen the pound slump to around 1.1 against the euro, compared with 1.5 in 2015. Against the dollar, the pound is currently lingering around $1.22, which is about 18 per cent lower than it was the day of the referendum. One of the consequences of this is an increase in the relative cost of imported goods, which unfortunately, includes bikes.
>>> 26 huge end-of-season road bike bargains that need to be snapped up fast
The majority of 2016 bikes currently available were imported or sold to dealers prior to drop in the pound. However, 2017 bikes are set to feel the impact of increased costs.
German bike manufacturer Canyon has raised the prices of its 2017 bikes against what the equivalent models cost in 2016.
To give an example, the Canyon Aeroad CF SLX 8.0 Di2, the same frame that won Cycling Weekly's 2016 bike of the year cost £3499, but will set you back £3899 in 2017. That is a difference of £400. Cycling Weekly asked Canyon as to the reason for the substantial increase to which it responded:
"As we all now know, the Brexit vote has led to a weakening of the Pound. We have been closely monitoring the situation, and when we set pricing on our 2017 bikes several weeks ago, we worked with the best analysts to ensure we continue to offer the fairest pricing possible while at the same time mitigating risk in the case of a more dramatic weakening of the pound.
"For this reason, prices on many UK bikes increased around 10 per cent over their 2016 counterparts. Whatever challenges the economy presents, we are confident that thanks to our direct sales business model, Canyon will continue to offer highly competitive pricing and class-leading performance with all our products."
Video - buyer's guide to road bikes under £750
>>> Buy the 2016 Cannondale CAAD 8 Sora from Evans with 21% off
The increase in price is not just limited to Canyon and brands with a direct sales model.
Chris Carter, the Managing Director of Merida UK explained: "For 2016 our average hybrid bike was £645 and that would equate to a Merida Crossway 300 in this year's range. For the equivalent specification bike next year we would be looking at £745-750. This translates to a 15% increase in retail pricing and is a fairly significant increase."
When asked the reason behind the price increase, Carter cited the drop in the value of the pound and explained "either we make a loss or we pass the pricing on.
"Hopefully we can find a middle ground where we limit the price increase to the consumer."
Due to current volatility of the markets, Merida is yet to confirm exact 2017 pricing.
>>> Buy the 2016 Merida Scultura 4000 for £1080 at Tredz
Nick Allen, Canyon's UK Marketing Manager, explained that other factors were also influencing prices and not just Brexit.
"All models within our range are priced individually to offer great value to every rider, and we have held to this principle in light of Brexit's apparent consequences," Allen said.
"It should be noted, however, that the Japanese yen is performing very well against the euro and dollar, and this has resulted in higher costs in our supply chain. That means globally prices on some of our bikes have increased somewhat."
With substantial price increases of 10-15 per cent on 2017 bikes over their equivalent 2016 models, one could argue now is the best time to buy a bike.
Many retailers still have 2016 stock, which if the the bike is a carry over model, will usually remain the same apart from a new paint job for the following year.
>>> Buy the 2016 Vitus Venon VR Disc from Chain Reaction Cycles with 33% off
Asked if it was a good idea or not for consumers to try and snap up a 2016 bike, Carter admitted that he has already been contacted by dealers wanting to buy up 2016 bikes.
"One of our dealers contacted us, wanting to buy large quantities of remaining 2016 stock. His intention was to sell these bikes at standard retail pricing next year as the pricing for 2017 models is going to go up."
Canyon currently has 2016 bikes discounted on its factory outlet store (opens in new tab) and added "our advice would be if you like the bike, it meets your requirements, and the price is right then buy it quick before someone else gets there first!"
Thank you for reading 10 articles this month* Join now for unlimited access
Enjoy your first month for just £1 / $1 / €1
*Read 5 free articles per month without a subscription
Join now for unlimited access
Try first month for just £1 / $1 / €1
Oliver Bridgewood - no, Doctor Oliver Bridgewood - is a PhD Chemist who discovered a love of cycling. He enjoys racing time trials, hill climbs, road races and criteriums. During his time at Cycling Weekly, he worked predominantly within the tech team, also utilising his science background to produce insightful fitness articles, before moving to an entirely video-focused role heading up the Cycling Weekly YouTube channel, where his feature-length documentary 'Project 49' was his crowning glory.