bike we like: Specialized Langster £450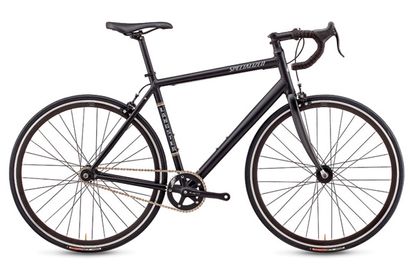 1st May 2010 Words: Matt Lamy
For any wannabe cycle courier, Specialized's singlespeed Langster is a perfect place to start when looking for your 'urban missile'.
The bike is built around one of Specialized's A1 premium aluminium compact frames, although for a £50 surcharge you could get yourself a far more retro, classic track-frame-shaped steel model.
The singlespeed set-up means there will be little to go wrong on the daily commute, while the toe-clips and straps provide an extremely straightforward solution to keeping your feet fixed to the pedals.
All in all, the Langster is a very pure and simple road machine. And when you're done posing around the city, you could use it on the track.
Model: Langster
Manufacturer: Specialized
Price: £449.99
Size range: 49, 52, 54, 56, 58, and 61cm
Frame material: aluminium
Fork: carbon
Transmission: 42t Sugino Zen Messenger cranks with 16t Shimano sprocket
Wheels: Alex 32 rims with track hubs

Website: Specialized (opens in new tab)
Thank you for reading 10 articles this month* Join now for unlimited access
Enjoy your first month for just £1 / $1 / €1
*Read 5 free articles per month without a subscription
Join now for unlimited access
Try first month for just £1 / $1 / €1