Boardman launches two new limited edition road bikes
The brand is releasing two new road bikes before the end of the year with the Boardman Performance Series Road Team Carbon Limited Edition and Boardman Road Sport Limited Edition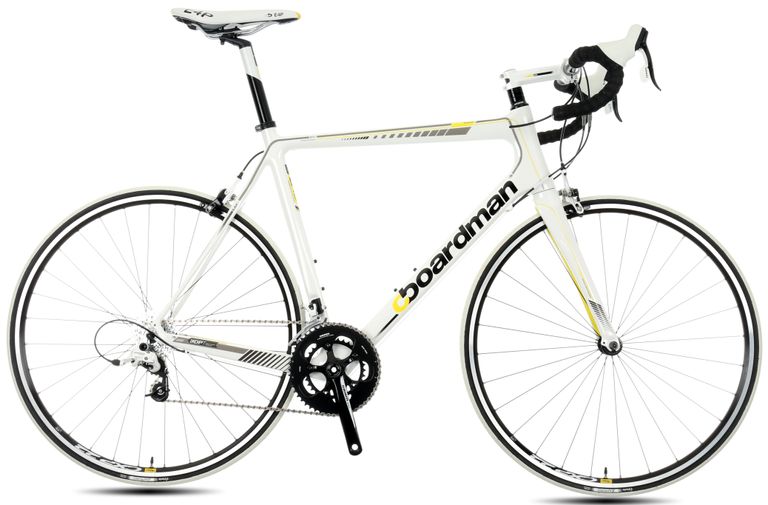 Halfords is launching two new limited edition Boardman road bikes: the first is a carbon offering with 10-speed SRAM, followed by a lower cost alloy framed entry level bike featuring 8 speed Shimano Claris.
Available from Saturday, October 25, the Boardman Performance Series Road Team Carbon Limited Edition is priced at £999.99. The new bike is equipped with a SRAM Apex 10 speed groupset and full carbon frame and forks, and is given a white finish similar to some of the higher end bikes in the brand's range. The build is completed with Mavic CXP-22 rims and Boardman's E4P finishing kit, as featured on the existing Boardman Performance Comp.
Launching in December the Boardman Road Sport Limited Edition will be £499.99. This lower cost model will be similar to the existing Road Sport, but includes a carbon bladed fork on the 7005 alloy frame, with the aim of reducing the bike's overall weight. The wheels are the same Mavic CXP-22s found on the Performance Series Road Team Carbon. At just 16 speed, the Shimano Claris gearing could leave some riders short on more challenging rides.
Both bikes are available from Halfords.com to click and collect. If you're planning on buying a bike a new bike online, you can follow our guide for getting your saddle height just right.
Chris Boardman says "we've got what we wished for" in the sale of Boardman Bikes to Halfords
Chris Boardman knows better than anyone the value of aerodynamically efficient bicycles, and with his AiR range of bikes he's
£1999.99
Jack Elton-Walters hails from the Isle of Wight, and would be quick to tell anyone that it's his favourite place to ride. He has covered a varied range of topics for Cycling Weekly, producing articles focusing on tech, professional racing as well as cycling culture. He moved on to work for Cyclist magazine in 2017.