Buying a new bike: a 12-point plan
Follow these simple steps in our bicycle-buying advice to make sure you purchase the right bike for you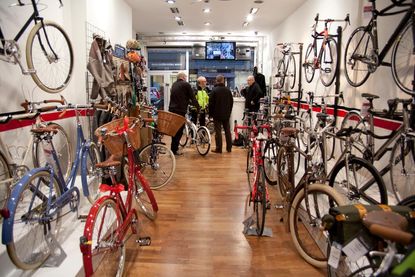 (Image credit: velorution)
With literally hundreds and hundreds of different models of bike on the market, it can be genuinely hard to know where to start looking for a new bike, whether that be your first one or to replace an ageing machine.
We often get asked which bike would be the best to buy, and the response is invariably the same: how much do you want to spend and what do you want to use the bike for?
In order to help you make those decisions, and turn them into finding the right bike for you, we've put together a 12-point plan. We've also included links to relevant articles and videos to help you.
1. Take your time
Before you start the process of looking for a new bike, make sure that you set enough time to make a good decision. Rushing into it before lunchtime won't do you any favours, and you could end up with something unsuitable that you will instantly regret.
2. Set your budget
Your final bike selection will doubtless be governed by how much you have to spend. Be honest with yourself about how much you are willing to pay for a bike, when you consider what you are aiming for. If you're looking for a carbon-fibre road bike with Shimano Dura-Ace groupset and then set your budget at £400, you may be in for disappointment. Bikes can be bought from £100 to £10,000, with a vast range to pick from. Be realistic.
3. What sort of bike do you need?
Along with budget, one of the biggest factors to consider before you start searching for a bike is exactly what you are going to use it for. There are various categories of bikes: road, mountain, cyclocross, hybrid, urban hybrid, gravel - and everything in between. Are you expecting your bike to do everything? Or are you just focussing on one sort of riding, eg road? If you're riding on the road, then choose a road bike or hybrid. If your riding includes off-road sections, then go for a cyclo-cross, mountain or gravel bike.
>>> Cyclocross bikes: a buyer's guide
4. Get informed
The internet and cycling magazines make it easy for everyone to find out about the different type of bikes, the sorts of components available and what each part of a bike does. Take the time to read up on various bike parts so that you know the difference between Shimano, Campagnolo and SRAM groupsets; frame materials; and anything else that you feel bamboozled by.
The frame is undoubtedly the most important part of any bike, followed by groupset (that is, gears and brakes) and wheels. Finishing kit - handlebars, stem, seatpost, saddle - will have less of a bearing on how the bike will ride overall.
>>> Road bike groupsets: A complete buyer's guide
>>> Are electronic groupsets necessary?
5. Ask for advice
If you have a friend who is knowledgeable about cycling, or who has just been through the bike-buying process, ask them for advice. Don't be afraid to ask basic questions, they'll probably be only too happy to share their knowledge.
6. Ask the experts too...
It's always good to get a second opinion, and your local bike shop will be able to offer you advice on what sort of bike to buy and the models they have on offer. Most bike shops only carry a limited range of brands, so there may be more out there, either in another shop or online. It pays to look around.
>>> This simple trick will help you find some of the best deals in Evans Cycles
7. Don't pay for features you don't need - and don't miss out on any that you do
Thinking back to your original bike requirements, make sure that you aren't swayed by something new and shiny. Do you really need a bike with disc brakes? Do you really need an electronic groupset? Has the bike got a full set of rack mounts on it, if that's what you need?
8. Consider where to buy
The internet is a great way to buy books, music, games consoles and all, but you don't need to be fitted for those things. A new bike is a very personal purchase and there's no way of telling whether a medium or XXL is the best frame size for you without sitting on one and having your posture appraised by someone who does it for a living. Many shops now offer a comprehensive bike fitting service.
>>> 10 best ways to make your bike more comfortable
You will probably find the bike cheaper online, and may also find good deals on last year's models, but if you're a beginner, find a couple of local bike shops and pick from the brands they sell. Most shops will offer a free first service too, which you would otherwise have to pay for.
9. Draw up a shortlist of up to five bikes
Make a list of the bikes that you like the look of, but try and restrict it to no more than five models. If you have a longer list, try to whittle it down. When you start comparing specifications, many will share components, too – bikes of a similar price from major manufacturers often have an almost identical specification of components.
10. Take a test ride
If possible, ride the bikes on your shortlist and see which one you enjoy most. It may actually be quite hard to choose between them on a brief ride – quite often, bikes at a certain price point and with the same components will have very similar ride characteristics. In the end, it may come down to superficial factors such as the way a bike looks.
11. Trust your feelings
We're not suggesting that you let loose your inner Jedi and consult with The Force, but never underestimate your gut feelings about the service you're receiving in the shop. Are the staff selling you the bike that's right for you, or what they've got? Can they relate to your situation and needs? Do you trust their advice?
>>> How to avoid scams when buying or selling used bikes
12. Finally, it's time to make a decision
You know how much you want to spend. You've tried out a few bikes. Hopefully you now know exactly which bike to buy and where to buy it. Go for it. And then enjoy many happy hours, weeks and years riding it.
Based on an original feature by Richard Yarrow for Cycling Active magazine.
Thank you for reading 20 articles this month* Join now for unlimited access
Enjoy your first month for just £1 / $1 / €1
*Read 5 free articles per month without a subscription
Join now for unlimited access
Try first month for just £1 / $1 / €1