Central heating for your gloves and overshoes from Ekoi
New Heat Concept gloves and overshoes include battery operated heating elements giving between two and five hours of warmth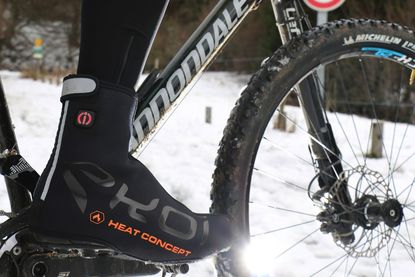 Heading out on a frosty Sunday morning for the club run might just be a bit more comfortable with French brand Ekoi's new Heat Concept accessories.
Each glove and overshoe has a removable, rechargeable lithium polymer battery, delivering up to 15 Watts. Ekoi says this gives a heating time of between two and five hours, depending on how toasty you want your tootsies. It says that they will work down to -20 degrees centigrade.
The Heat Concept gloves have a waterproof and breathable membrane and are made of neoprene. They have a reinforced palm with anti-slip silicone pads and are closed with a Velcro strap to help keep warmth inside.
>>> Ekoi Competition9 Thermal jacket review
There's a button on the top of the glove to adjust the amount of heating. It's colour coded for the selected glove temperature, going from green for 25C up to red for 40C. They're available in sizes M, L and XL and priced at 139.95 Euros, although look out for Ekoi's frequent discounts.
Watch: Dos and donts of winter training
The overshoes use the same heating technology, with the heat control button placed on the rear of the ankle, just below the cuff. They're made of 4mm neoprene, with a Velcro strap under the insole to allow fit adjustment. Ekoi says that they are reinforced at the toes and heel – typical areas of high wear – and include reflective elements. They come in size M to fit shoe sizes 40 to 42, L for sizes 43 to 45 and XL for 45 to 47, with a price of 169.95 Euros.
>>> Winter cycling survival guide
Ekoi sells direct from its website, offering Sterling pricing for UK customers and free delivery over a specified minimum spend.
Thank you for reading 20 articles this month* Join now for unlimited access
Enjoy your first month for just £1 / $1 / €1
*Read 5 free articles per month without a subscription
Join now for unlimited access
Try first month for just £1 / $1 / €1