Charge Plug gets aluminium overhaul for 2016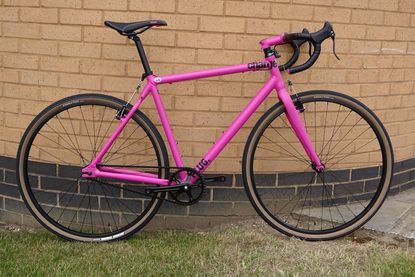 Charge's Plug was the archetypal steel fixie, but for 2016 it's reinvented itself in aluminium with a carbon fork.
And the tyre size increases from 28mm to a whopping 42mm. The Plug sprouted gears some years ago, but the new wheels and frame are a radical overhaul.
Charge is a UK bike manufacturer which started off in 2006 selling steel framed fixed wheel bikes. It's based in Somerset and has made a name for itself with its range of straightforward urban, commuter and off-road bikes.
The new Plug has a frame has a less sloping geometry and Charge claims that the wider tyres roll quicker and are more comfortable, particularly on dodgy city street surfaces. Charge also says that they're better for low speed manoeuvrability.
The Plug range still tops out with the titanium Plug 5. For £2499.99 you get a butted titanium frame, carbon fork, SRAM Rival 1x drivechain and SRAM hydraulic disc brakes.
The next-down Plug 4 gets that aluminium frame and carbon fork, post-mount disc brakes, Shimano 105 shifting and a Shimano RS500 chainset. Price is £949.99.
For £849.99 the Plug 3 comes with Shimano Tiagra and Promax cable disc brakes, whilst the £649.99 Plug 2 comes with Claris and disc brakes.
Fixie fans will be relieved to hear that the £499.99 Plug 1 – in lipstick pink, although black is also available – comes with a flip flop hub, 1/8 inch chain and 42:16 gearing. It's also got Tektro cantilever brakes to give enough clearance to get the wheel past those 42c tyres.
>>> Top ten road bike innovations
Steel diehards can still get their all-metal fix though. The Plug 0 comes with a steel frame and fork, canti brakes, 42c tyres, steel bullhorn bars and singlespeed gearing. All for £349.99.
All except for the Plug 5 come with a Charge Spoon saddle – and if you want that custom look, Charge has a number of variants for sale separately, including these camo options for £29.99.
Charge's Grater range of flat bar urban bikes continues to use an aluminium frame and all but the lowest spec versions get carbon forks. There's a new top-of-the-range titanium Grater 5 priced at £2199.99 and below that sits a new Grater 4 which comes with SRAM Rival 1x shifting and Shimano hydraulic disc brakes. Price is £999.99.
Thank you for reading 20 articles this month* Join now for unlimited access
Enjoy your first month for just £1 / $1 / €1
*Read 5 free articles per month without a subscription
Join now for unlimited access
Try first month for just £1 / $1 / €1