Check out the innovative chain tool that'll keep your hands clean (video)
The Rehook helps get a dropped chain back in place, without getting your hands dirty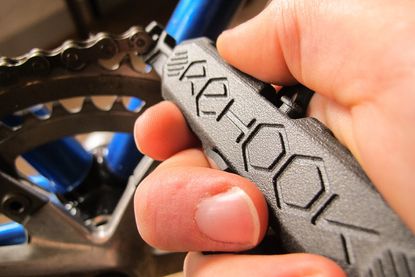 Just when you thought you'd got every single bike tool you could possibly need, along comes another. This one may not be as useful as a 6mm allen key or the humble tyre lever but its inventor hopes riders are sufficiently concerned about keeping their hands clean that they'll buy one.
Put simply, it puts a dropped chain back in place. It hooks into a link and relocates it on the teeth - just what you do now with your fingers. But by having handle it keeps your digits away from the oil and dirt, says inventor Wayne Taylor.
>>> Seven essentials you need to take on every ride
"I've called it Rehook because that's what it does," says Taylor, who quietly unveiled the gadget at a small stand tucked away The Cycle Show simply to test the water. Much to his surprise, he sold his entire stock there and then.
"It proved much more popular than I had expected. I've got cycle shops who want to stock it but I ran out of units and I've had to get another lot made which won't be here for a week."
The idea came to him four years ago during his daily commute ride to his software design job in Norwich. "It was always on those days when you've got an important meeting first thing and you're wearing a white shirt that you drop your chain," says Taylor. "I'd end up going in with oily smears and dirty hands."
>>> How to change your chain (video)
A year ago he found time to start thinking properly about the tool. "I'd done software product design before but never any physical products. It really helped buying a 3D printer to try out different designs and I'm lucky that my wife had enough confidence in me so I didn't have to put the money towards the mortgage" says Taylor.
>>> Find out more at rehook.bike
All in all, he's spent £3,000 so far and kept some costs down by "doing the legwork" himself on his patent before getting an expert to check it out.
"It's not going to make me a millionaire and I've got to sell a lot more Rehooks to turn a profit," says Taylor. He is keeping the day job.
Max Glaskin is an award-winning freelance journalist who tweets about cycling and science as @CyclingScience1.
He is author of Cycling Science (published by Frances Lincoln UK, Chicago University Press USA, and seven other languages).
Thank you for reading 20 articles this month* Join now for unlimited access
Enjoy your first month for just £1 / $1 / €1
*Read 5 free articles per month without a subscription
Join now for unlimited access
Try first month for just £1 / $1 / €1