Is a climber's bike or an aero bike best for a mountain stage in the Tour de France?
You'd think a climber's bike would have the edge, but an aero machine just might be a better choice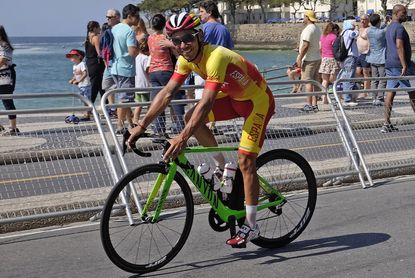 (Image credit: Yuzuru SUNADA)
Climber's bikes are getting lighter and lighter; last week we covered the launch of the 5.9kg Look 785 Huez RS and all brands will have a climber's bike that dips significantly below the 6.8kg UCI weight limit, requiring added ballast to bring it up to the minimum.
But many aero bikes are now grazing the 6.8kg limit too. Merida says that with a few small changes such as carbon bottle cages and lighter skewers, a team build of its new Reacto would weigh 6.8kg. A stock build of the Scott Foil RC with alloy wheels weighs just 7kg. So the weight penalty from riding an aero bike is negligible.
With most elite riders now putting out around 6.2 Watts per kilogram of body weight, there's not too much difference in climbing speed between riders either. This often results in a series of feints and a stalemate on summit finishes, with no decisive time gains.
So the Bahrain-Merida team's conclusion is that stage races are no longer won or lost on climbs, but in three situations: during descents; in stages when echelons form like Stage 2 of the 2015 Tour; or on time trials as in the 2017 Giro d'Italia.
In all these cases, aerodynamics is crucial.
Plus, over the last few years, there has been an increase in the number of mountain stages ending with a descent into a town in stage races and grand tours, rather than on a summit. This is likely to be due to finishes in towns commanding more revenue for the tour organiser. Sunday's Stage 9 into Chambery is a good example.
Some number crunching
The queen stage of this year's Giro d'Italia, Stage 16, finished with the descent off the Stelvio Pass into Bormio. The stage was won by Bahrain-Merida's Vincenzo Nibali.
The descent is 18km long, drops 1226m with an average gradient of 7%, 32 bends, and two areas which contain the main technical difficulties. Nibali completed it in 17:15 minutes at an average speed of 60.46kph riding a Merida Scultura climber's bike.
Merida has modelled Nibali's speed on the Scultura going through the various sections of the drop, then remodelled his descent using the lower drag offered by the Reacto.
Its conclusion: Nibali would have saved around 20 seconds riding the Reacto, with a ride time of 16:55 minutes and an average speed of 61.73kph, 1.3kph faster.
So, Merida concludes, even on big mountain stages there are significant gains to be made from riding an aero bike. Which makes it a bit strange that the podium of the 2017 Giro was made up of riders, all of whom chose to ride a climber's bike.
We've done our own tests at Cycling Weekly, shown in the video below. Even with a weight penalty of 800g, an aero bike was nearly as fast as a climber's bike for a rider with a higher power output.
Joachim Rodriguez is one climber who preferred to ride an aero bike. Now team ambassador for Bahrain-Merida, he rode the Canyon Aeroad when racing for Katusha. He comments that he preferred an aero bike as he could save energy on flat sections, where he was weaker, to put into attacks on the climbs.
Another brand taking these conclusions to heart is Pinarello. It may not offer Team Sky a choice of bikes for road stages, but the Dogma F10 is one of the slipperiest machines in the peloton as well as being close to the UCI weight limit.
And another thing to ponder: there are also significant gains to be made from being able to brake harder and later, allowing a rider to maintain speed into corners. So disc brakes are likely to offer an advantage. And wind tunnel tests have shown minimal aerodynamic disadvantage relative to rim brakes.
Thank you for reading 20 articles this month* Join now for unlimited access
Enjoy your first month for just £1 / $1 / €1
*Read 5 free articles per month without a subscription
Join now for unlimited access
Try first month for just £1 / $1 / €1