Ekoi launches its first winter shoes
Two and three bolt versions available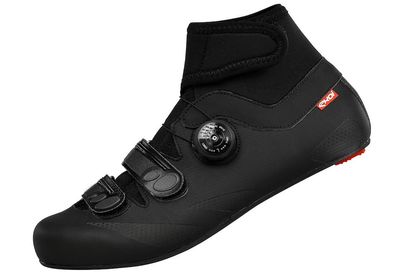 The Ekoi Carbon Winter shoes are designed to keep you riding through the dirtiest of conditions, with Ekoi saying that they're good down to 0C. Unlike many winter shoes and boots, the new shoes comes with a carbon sole unit for efficient pedalling.
>>> Cycling slower in winter? Six excuses for slow winter riding and the truth behind them
But the one piece synthetic leather upper has a seamless waterproof, breathable inner lining, as well as an ankle cuff, which is closed with a Velcro tab. The uppers are closed by a Boa-like ATOP dial at the top end and two Velcro straps lower down.
>>> Winter cycling shoes for the cold months of 2019
Ekoi says that it's added an antibacterial treatment to the uppers, so damp, sweaty feet shouldn't get whiffy. Sensibly, the Carbon Winter shoes are available in black only. Ekoi quotes a weight of 620g a pair for a size 41, so the Carbon Winter shoes aren't too heavy either. Sizes available range from 40 up to 46.
If you're after something with a bit more grip – a useful feature even if you're riding on the road, to ensure that you stay upright on wet surfaces at your warm-up mid-ride coffee stop – there's also an MTB variant of the Carbon Winter with a grippy sole and two-bolt cleat fittings.
At full price, the Ekoi Carbon Winter shoes are £177.77 for the road version and £231.11 for the MTB variant. But prices fluctuate with exchange rate and Ekoi often offers substantial discounts to its RRPs. So at present, you can pick up the road version for £124.44 and the MTB shoe for £161.78, a 30% discount.
>>> The best cycling overshoes for 2019
Ekoi offers free postage to the UK too.
Thank you for reading 20 articles this month* Join now for unlimited access
Enjoy your first month for just £1 / $1 / €1
*Read 5 free articles per month without a subscription
Join now for unlimited access
Try first month for just £1 / $1 / €1