FIRST RIDE: TIME VXR PROTEAM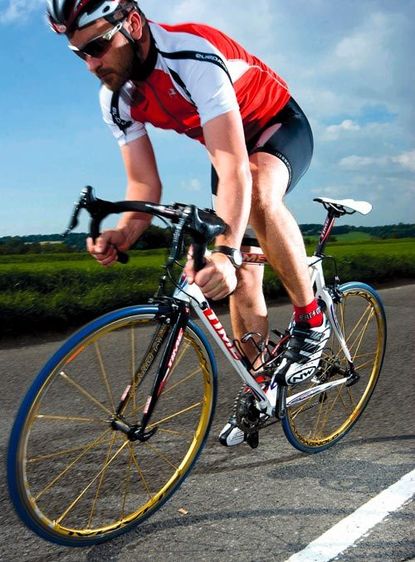 From the very first glance, Time?s VXR Proteam looks quite different from the rest of the pro-level race frames on the market.
While most manufacturers are coming up with ever larger bottom bracket and head tube clusters in an effort to produce the stiffest frame possible, Time ploughs a lonely furrow with its proprietary woven tubesets, building comparatively svelte framesets.
These Racing Fibre Matrix tubes use similar high-modulus carbon-fibre, but rather than layering up pre-pregnated, pre-woven carbon sheets in a mould and baking the lot to form a semi-monocoque frame ? like the vast majority of companies do ? Time weaves its tubes from individual strands of varying fibres. The orientation of the fibres within the weave ? and even the fibres themselves ? can be altered to add directional flex, or to resist particular loads.
With a fairly traditional bi-ovalised down tube (vertical at the head tube, horizontal at the bottom bracket), it takes a close look to spot the subtle design elements that make the difference. External bulges grace the top tube to aid the fight against tubing deflection when cornering hard and braking. These effectively increase the height of the top tube to resist bending in the vertical plane.
Using this subtle method, Time has managed to produce one of the best handling frames around, in terms of stiffness, without resorting to the bulky forms
seen elsewhere. As well as these external shapings, internal forms are altered to assist in the resistance of rider-imposed loads.
At the back, the chainstays use a different weave, and internal form, for the drive and non-drive sides. The idea is to prevent compression in the drive side and flex in the non-drive, showing just how much thought the engineers have put into the bike?s performance when riding, rather than just making the stiffest possible chassis.
Under weight
Despite being quite deep in section, the chainstays also use vibration-damping Vectran fibres, woven longitudinally into the tubes. This allows the majority of the weave being configured to resist the power application and cornering loads without being compromised by the vertical compliance needs of a rider wanting comfort.
This same fibre (and internal and external shaping) is also used in the Avant Safe+ fork. While being comfortable ? they damp the road buzz as well as any fork the test team has ridden ? they are exceptionally stiff under load with a barely perceivable amount of flex under braking. This is mirrored in cornering accuracy; with no wandering, even on alpine hairpins, the front wheel goes exactly where you want it, making for handling you can utterly depend on.
Time does not shout loudly about the weight of the Proteam but, despite not being the range-topping model, when hung with a standard Campagnolo Record groupset, the VXR Proteam comes in under the UCI?s minimum weight limit for a race bike.
Sold as a ?module? as well as a complete bike, the Proteam comes with Time?s own seatpost, headset and stem. As you would expect, the carbon post is beautifully finished, and comfortable, and its two-bolt head holds the saddle solidly.
The slightly bulky stem may look a little out of place but, thanks to the same forming seen on the top tube ? this time in both horizontal and vertical planes ? its stiffness is superb. To top it off it weighs just over 120g.
But none of the above would be worth squat if the geometry was all to pot. Thankfully, Time has this right too. With years of experience sponsoring trade teams, what you end up with is a supremely stable machine that never exhibits any foibles, no matter how hard it?s pushed.
Don?t think, however, that this means it is dull; the solid fork and lack of any torsional flex in the front triangle mean that it is a match for the tightest criterium circuit or most sinuous decent. Short chainstays also mean snap acceleration, and climbing prowess is top flight too.
Verdict
Despite the slightly old-school looks, Time?s VXR Proteam is a match for any of its contemporaries. The tubing profile ? both internal and external ? offers stiffness that belies its aesthetic, both in terms of its resistance to lateral deflection under power and cornering loads.
Top this off with geometry that?s dependable in any scenario, and the feel that comes only from a flyweight machine, and there is very little more that any aspiring racer (or come to that, unattached professional) could want for.
Doing without the integrated seatpost of the Ulteam, it?s also a damn site more user friendly. You could do a lot, lot, worse.
TIME VXR PROTEAM
DistributorRJ Chicken and Sons
Price£2,239.99 module price (approx £3,799 as tested)
FrameRacing Fibre Matrix tubes with Fluid Ride technology, full-carbon lugs
ForkSafe+ multi-diameter fork
Size rangeXXS,XS,S,M,L,XL,XXL
Weight6.64kg
GroupsetCampagnolo Record
DeviationsNone
AlterationSpecialized Toupe Ti 143 saddle
Gear ratios53x39 with 12-23
WheelsCampagnolo Shamal Ultra
TyresVredestein Fortezza Tricomp
Bars3T 4G XL
StemMONOLINK carbon
SeatpostTime
SaddleSelle Italia C2
CW FIRST IMPRESSION: 10/10
Thank you for reading 10 articles this month* Join now for unlimited access
Enjoy your first month for just £1 / $1 / €1
*Read 5 free articles per month without a subscription
Join now for unlimited access
Try first month for just £1 / $1 / €1
Founded in 1891, Cycling Weekly and its team of expert journalists brings cyclists in-depth reviews, extensive coverage of both professional and domestic racing, as well as fitness advice and 'brew a cuppa and put your feet up' features. Cycling Weekly serves its audience across a range of platforms, from good old-fashioned print to online journalism, and video.