FSA helps you choose your replacement bottom bracket
So much fun choosing the correct one for your frame and cranks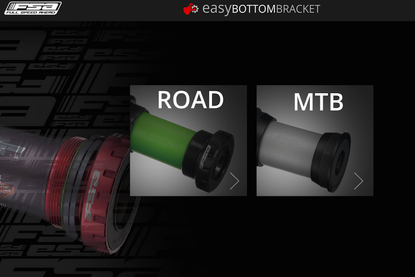 FSA has come out with its Easy Bottom Bracket tool, to complement its Easy Headset Tool, which was launched last November. Like headsets, bottom brackets are a part of the bike where the proliferation of standards makes finding the correct replacement a real chore.
When you open up the tool at fsaeasybottombrackets.com (opens in new tab), you're confronted first of all with a choice between road and MTB. So far, so good – we know the answer to that one.
Next up, you need your bottom bracket shell width and diameter – there's a drop down list of possible values for each, with the diameter including 41mm and 42mm values, so you'd better have a good ruler handy. There's also the trick value "threaded". Selecting one limits the values for the other, so you can't choose an impossible combination.
After this, it's your crankset standard, so make sure you know your BB386Evo from your BB30 (it's usually written on the crank). Click on the correct standard and, hey presto, you're presented with multiple BB options for your frame – usually a choice between boring but steady steel bearings and super whizzy, faster baby, faster ceramic, the latter usually also commanding an extravagant price tag. But just think about those marginal gains!
>>> Are marginal gains for everybody?
Click through and you get a full description of your new best friend in the bottom bracket department, including the price in Euros and Dollars, so you can size up if you can afford the extra $150 or so for those marginal gains and ceramic bragging rights.
It says something about the complexities of bottom brackets that it's taken almost a year to develop a suitable tool, But with FSA offering replacement bottom brackets for all known standards, it's a handy way to while away your time on a wet winter evening after a particularly creaky ride.
Thank you for reading 5 articles this month* Join now for unlimited access
Enjoy your first month for just £1 / $1 / €1
*Read 5 free articles per month without a subscription
Join now for unlimited access
Try first month for just £1 / $1 / €1