Hunt Wheels adds two new dynamo wheelsets to its range
You can now go carbon or Boost with your own power generator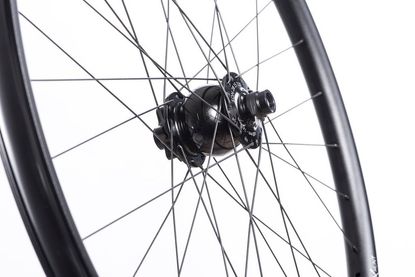 If you're riding through the winter or planning to take on some longer rides to less accessible areas, a dynamo lighting system makes a lot of sense. You're independent of mains charging and can also use the dynamo to keep your cycle computer, phone and other electronic gizmos powered up.
Hunt Bike Wheels has had the Superdura wheelset available with a front hub dynamo for a while. Now it's launched two new dynamo hub wheelsets to add to its offering.
The 30 Carbon Dynamo Disc, as its name suggests, comes with Hunt's 30mm deep carbon rim. So there are benefits in aerodynamics and weight over the Superdura.
>>> Hunt 30Carbon Gravel Disc wheelset review
It's targeted at those who want a performance wheel along with the benefits of dynamo lighting and is good for gravel and bikepacking as well as winter road rides and ultra-endurance events. The 27mm external/21mm internal rim width will let you run tyres anywhere from 25mm to 45mm width. As with all Hunt's wheels, it's tubeless ready.
You get 28 Pillar triple butted PSR spokes per wheel, with corrosion-resistance brass nipples.
Hunt says that the wheelset weighs 1618g, which adds less than 240g to the weight of Hunt's lightest disc brake wheelset. The 30 Carbon Dynamo Disc wheelset is priced at £1059.
Search 29 Dynamo Disc
Hunt Bike Wheels's second new dynamo option is the Search 29 dynamo disc wheelset. Hunt has worked with Mason Cycles to develop the Search 29 Dynamo wheels as a match to Mason's new ISO bike.
So the Search 29 can run 2.3 inch to 3 inch tyres on its extra-wide 30mm internal width rims. And the wheelset comes with the Boost hubs that the new Mason needs. There are extra seals in the rear hub and 32 spokes per wheel to cope with rough and steep off road riding.
Hunt quotes a wheelset weight of 2165g and the Search 29 is priced at £549.
Both wheelsets, like the Superdura Dynamo wheels, use the SON28 hub dynamo. This only adds around 5 watts of extra resistance when in use and will generate enough power to put out over 500 lumens at 10mph. Switched off, there's just 0.5 watts of extra rolling resistance.
Thank you for reading 20 articles this month* Join now for unlimited access
Enjoy your first month for just £1 / $1 / €1
*Read 5 free articles per month without a subscription
Join now for unlimited access
Try first month for just £1 / $1 / €1