Five ways Apple has made the iPhone X an actual useful cycling accessory
The best iPhone yet? - Words by Sean Keach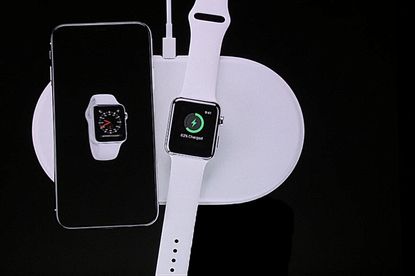 As predicted, last night saw Apple launch two brand new products, the iPhone X and the Apple Watch 3.
For the inside track on the new iPhone 9, visit TrustedReviews
In fact, it's safe to say that the iPhone X is the biggest Apple development in years, designed to honour the decade since the original iPhone was released.
Whether you want it or not, a phone is actually a pretty useful tool for cyclists, and many rely on them every time they head out on the bike.
So, here are some reasons why the iPhone X is a killer cycling phone.
Big screen, bigger mapping
The rumoured design change of an "all-screen front", turned out to be true. Gone is the bulky home button, in its place is a 5.8" screen, perfect for blowing up maps should you get lost mid-ride.
Removing some of the heft should also makes the iPhone a lot easier to cram into a jersey pocket.
It's waterproof, and then some
The new iPhone X is fully waterproof, to an IP67 certification.
Realistically, that means you can submerge your phone in up to a metre of water, so you'll probably be fine to take it out on a bit of a wet ride.
Better cameras, better selfies
Apple has done some serious camera development work with the iPhone X.
It'll get two cameras on the rear, as well as much better low light sensitivity, 60fps full HD filming, twice the slow-mo as before and accurate motion tracking.
Oh, and you now have selfie exposure adjustment, so you'll always be properly lit at every insta opportunity.
Watch: Top five apps for cyclists
More power, more battery
As anticipated, Apple introduced an OLED display and a brand-spanking new A11 processor for the iPhone X.
In terms of riding, this means plenty more juice for your phone and much more power to run Strava, mapping aids, Bluetooth and much more.
Hopefully it also means your phone shouldn't can it if the temperature suddenly drops. But if it does, it can now gain half its charge back in 30 minutes – perfect for that cafe stop.
Its best mate, the Apple Watch 3
The Apple Watch 3, meanwhile, is an exciting cycling addition in its own right.
Much like the new iPhone, the watch gets a boost in battery life and power efficiency, as well as the addition of an altimeter.
Even better, it'll work as a stand alone piece of equipment thanks to the addition of a sim slot and cellular connection. That means you can ditch the phone, and go out au naturel.
Given the Apple Watch's already-impressive health-tracking capabilities, – or at least the addition of Strava – it could become quite popular with cyclists.
The iPhone X will retail at £999 and the Apple Watch 3 will cost £399.
Thank you for reading 20 articles this month* Join now for unlimited access
Enjoy your first month for just £1 / $1 / €1
*Read 5 free articles per month without a subscription
Join now for unlimited access
Try first month for just £1 / $1 / €1