Knight wheels launches 'easiest and fastest tubeless-ready road wheelset'
Knight claims that its new TLA road wheels will be as easy to fit with tubeless tyres as the conventional clincher set-up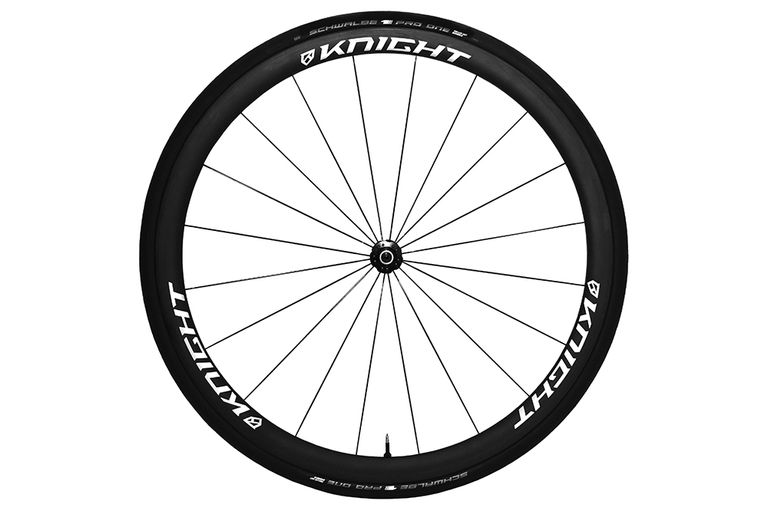 Knight Composites has launched a new tubeless-ready road wheelset and claims it to be the "easiest and fastest tubeless-ready" wheelset available on the market.
>>> Why don't the pros use tubeless tyres?
The new Knight TLA (tubeless-aero) wheels have seemingly adopted what we've seen in the mountain bike world for nearly eight years now and use a 'hookless' internal rim design to seat the tubeless tyre bead.
This change in design means that the tyre bead has twice as much sealing surface compared with the traditional 'hooked' rims we seen on road tubeless set-ups. This, Knight says, means mounting tubeless tyres is now no harder than fitting standard clincher tyres and means you do not need to use an air compressor to get the tyre seated.
What we've wanted to see is wheel and tyre brands work together and get a better interface between tyres and rim, especially when it comes to tubeless and Knight has done just that by working with Schwalbe, one of the leading tyre brands when it comes to tubeless.
According to Knight, it has worked with the tyre brand throughout the entire development of the new TLA wheels and in fact tested the interface by inflating the tyre to twice the maximum stated pressure without issue. Though we wouldn't recommend this at home!
Two sets of wheels will be available in this new form; 35mm and 50mm depths and will be built onto ROTOR RVolver hubs and laced with Sapim CX-Ray spokes. 35mm wheels are claimed to weigh 1430g and the 50mm wheels 1510g.
Both sets will cost £2000.
Beverly Lucas, CEO of Knight Composites goes on to say that this is the time for tubeless.
"Tubeless-ready road tyres are clearly the future but, as everyone knows, they are normally incredibly hard to fit and run – something I have found on my own road, gravel and 'cross bikes.
"Our new TLA's are so easy to set up and, at the same time, they are super-fast and light. We've intentionally taken our time with Knight's tubeless-ready road wheel, but the end result is so worth it – the TLA's are absolute game changers."