Mavic's blood runs a bit blue in support of the Haute Route
Mavic announces a limited edition version of its wheels and clothing to celebrate its association with the Haute Route cycling events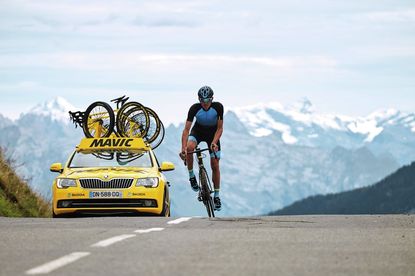 Mavic's marketing boasts that the company has yellow blood in its veins and certainly the company's signature colour turns up in abundance in its components and its clothing and in its neutral support cars at cycle races and sportives.
Well now at least a part of that yellow blood has turned light blue as the company has announced special limited editions of some of its key lines to mark its association with the Haute Route cycling events. Mavic is the Haute Route's main partner and will provide four neutral support vehicles during each event.
>>> The best international sportives to ride in 2016
In 2016, there will be three week-long Haute Route races held in the Pyrenees, Alps, Dolomites/Swiss Alps. There are also two "compact" two or three day events for those whose legs won't cope with a full week of climbing over 800 to 900 kilometres.
>>> Disc brakes banned from l'Etape du Tour
Available from the first of May, Mavic's Haute Route ensemble will include a limited edition of 1200 sets of wheels with blue accents, comprising either the Ksyrium Pro Exalith priced at £900, or the new Ksyrium Pro Carbon SL clincher at £1650, the disc braked version at £1725 or the tubular, also at £1725.
And to match this, Mavic is releasing an Haute Route version of its clothing, comprising a Ksyrium helmet (£95), jersey (£75), bib shorts (£115), socks (£10) and shoes (£135).
Thank you for reading 20 articles this month* Join now for unlimited access
Enjoy your first month for just £1 / $1 / €1
*Read 5 free articles per month without a subscription
Join now for unlimited access
Try first month for just £1 / $1 / €1