This company will make mech hangers for anyone's bike, even if it loses money
Wheels Manufacturing says that it makes over 250 rear derailleur hanger designs – and that's nowhere near all the possible options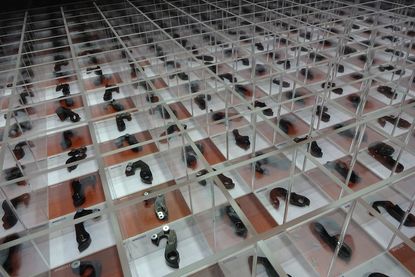 The bike industry is a funny beast. Some parts are – or used to be – very standard, like wheel sizes for road bikes, while others have a mad proliferation of different designs. None can be madder than derailleur hangers.
All they do is attach a rear mech with a standard thread to the rear right corner of your bike. But break your mech hanger and you will be presented with a bewildering array of potential replacements. Why use an existing design when you can invent a new one?
>>> How to adjust your front and rear derailleurs (videos)
Wheels Manufacturing has made a business out of making replacement derailleur hangers for pretty much every bike out there. The company reckons there are around 350 different designs and it's got over 250 covered in its range. All its hangers and other parts are made in the USA.
Watch: How to change your press fit bottom bracket
It's compiled a database of over 7000 frames and their compatible hangers based on its own research, manufacturers' information and feedback from its customers. The array of possible options looks pretty bewildering in Wheels Manufacturing's display case – and that's not the full range.
>>> Are you using your bike's gears efficiently?
The company says that the demand for some designs is so limited that it doesn't turn a profit from making them.
Bottom brackets are another fun area of proliferating standards and the company has replacement bearings to fit the slightly less extensive range of options here. You've also got the choice between steel and ceramic bearings and adapters between standards to add into the mix.
>>> What is Q Factor and does it make a difference?
Wheels Manufacturing also makes the extensive range of tools needed to prise out your rusty old bearings and push or screw in your shiny new ones. It hasn't yet got into headsets. This is yet another part of the bike where is seems that anything goes.
The Wheels Manufacturing range is imported into the UK by Madison.
Thank you for reading 20 articles this month* Join now for unlimited access
Enjoy your first month for just £1 / $1 / €1
*Read 5 free articles per month without a subscription
Join now for unlimited access
Try first month for just £1 / $1 / €1