Mule Bar tackles gel wrapper litter with reusable containers
A simple idea which might just reduce the amount of waste packaging discarded by cyclists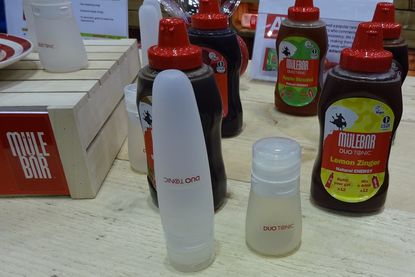 It's a sad fact that you can almost work out the course of a sportive by following the discarded gel wrappers. Once you've had your slurp, they're useless and too many riders decide they don't want to keep the sticky remnants in their pockets until they pass the next bin.
>>> Rider rubbish is becoming a sad by-product of cycling's popularity
Our off-road bretheren are as bad – the South Downs Way, for example, is littered with wrappers.
Mule Bar has resolved to do something about it, packaging its gels in reusable plastic containers with resealable caps that can be opened one-handed. This means that you don't have to slurp the whole gel at once and also that there's a lot less chance of mess when you have finished a gel.
Since it's only filled with sugar solution, you can carry the packaging home, rinse it out and refill it. And Mule Bar will be selling larger bottles of gel which you can keep in a cupboard at home to refill your on-the-road package. Each refill pack will fill at least 12 gels.
Watch: How to make your own sweet potato and chocolate recovery bars
For those who want to go a step further, the company is also selling gel-size silicone containers with screw caps, which are likely to be a lot more durable than the standard gel packaging. Again, they can be rinsed out after a ride and reused.
>>> Mule Bar Kicks energy gel review
Mule Bar has also released a couple of additions to its vegan range, including an almond and strawberry recovery bar with 25% protein. There's also a lemon and ginger flavour energy bar, released to celebrate the brand's tenth anniversary.
>>> A cyclist's guide to following a vegetarian diet
It says that all its products are Vegetarian Society approved too.
Thank you for reading 20 articles this month* Join now for unlimited access
Enjoy your first month for just £1 / $1 / €1
*Read 5 free articles per month without a subscription
Join now for unlimited access
Try first month for just £1 / $1 / €1