Do you need carbon wheels?
High-end carbon wheels can turbo-charge your performance and boost your morale — But is it worth upgrading to anything other than this miracle material?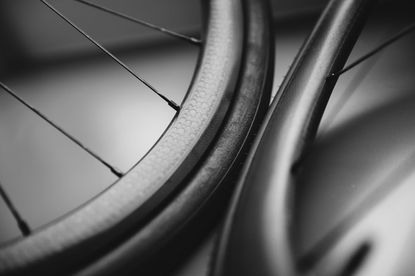 Upgrading your wheels is the most efficient way to reduce your bike's weight and increase its performance. Are carbon rims now, more than ever, a cycling rite of passage?
Mike Cotty, brand ambassador for Mavic and Cannondale and who knows his way around a carbon monocoque, puts the act of riding a bicycle and gaining fitness and experience first.
"Get out and see where your cycling is going," he says. "When you've got to a level where you can start making improvements for specific reasons, I would say that's the level where the carbon wheel debate comes in."
>>> New British brand proves that carbon wheels don't have to cost thousands of pounds
Carbon-fibre is not only light, strong and stiff but is also perfect for creating aerodynamic shapes.
Cotty says: "If I was back riding in the New Forest where it's mainly flat I'd have a 40-50mm aero rim because I can wind it up, get it rolling and there's not a lot of hills in the way.
"But if I'm in the Pyrenees, I've got my lower-profile 25mm wheels — still carbon — a set of Mavic Ksyrium Pro Carbon SLs which I've lived with for the last couple of years.
"They're amazing in the mountains because they're super lightweight."
Improved technology
In the past, carbon wheels came with certain provisos: if you braked too much on a descent you'd melt them.
The other side of the coin was that in the rain the brakes wouldn't work at all. Cotty dismisses these concerns.
>>> Buyer's guide to road bike wheels (video)
"If you come from what I'm going to call the old school, where you had a respect for carbon and its limitations, your experience allowed you to ride that product generally without problems.
"But now there's resin that's very resistant to high temperatures. Mavic may not have been first to market with a carbon clincher but from being involved in their product testing I know they don't want to put something out there if it's not up to the job.
"They use Mont Ventoux a lot and have had a 100kg-plus rider with a fully laden rucksack on his back going all the way from the top to the bottom dragging the brakes to prove the thermal resistance of their resins.
Watch now: How to use your brakes properly
"Their lab testing is awesome when you see it but nothing beats real testing when it's 35°C and the road's melting and they're saying, 'Yes, that's still within our parameters.'"
"To go out and enjoy cycling you don't need the highest-end kit," adds Cotty, who is part of the Col Collective, an organisation that aims to inspire and educate cyclists.
"Ultimately, as long as you've got well-functioning, well-maintained kit you can do pretty much anything on what you've got."
>>> Do you need deep section wheels?
Established brands
Cotty sums up: "I would say if you want carbon wheels, look to the more credible manufacturers who have been in the industry a long time.
"Make sure you have confidence in what they're about and what their equity stands for. And if you've got any doubts about a wheel don't ride it."
Thank you for reading 10 articles this month* Join now for unlimited access
Enjoy your first month for just £1 / $1 / €1
*Read 5 free articles per month without a subscription
Join now for unlimited access
Try first month for just £1 / $1 / €1
Simon Smythe is a hugely experienced cycling tech writer, who has been writing for Cycling Weekly since 2003. Until recently he was our senior tech writer. In his cycling career Simon has mostly focused on time trialling with a national medal, a few open wins and his club's 30-mile record in his palmares. These days he spends most of his time testing road bikes, or on a tandem doing the school run with his younger son.