How to make your bike lighter for free: seven essential weight and money-saving tips
You don't need to have a fat wallet to be a weight weenie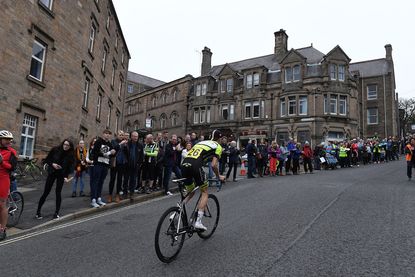 We all want to be able to climb a little bit faster, and one of the best ways to do this is to reduce the amount of weight that you're having to haul up those gradients. Of course, you could always lose a bit of weight from your body, but that's no fun, or indeed you could buy lighter equipment, but that can get expensive.
However, if you're looking to save a few grams without having to open your wallet, then there are a few ways that you can go about it.
1. Give your bike a clean
The oldest piece of bike maintenance advice in the book, if you only clean your bike every couple of months and ride it through all weather, you're likely to find yourself washing off a good few hundred grams of mud and muck.
>>> 11 bike maintenance mistakes and how to avoid them
Of course, saving weight is not the most important reason for keeping your bike clean, as it will also it running smoothly, quietly, and most importantly quickly, and will also help to improve the life of the drivetrain components.
2. Clear out your saddle bag
I had a clear out of my saddle bag the other day, and was shocked at the amount of useless rubbish I had weighing me down in there. As well as the essentials of an inner tube and tyre levers, I also had a chain tool that had rusted to the point of being useless, a second old, puncutured inner tube, and a small fortune in loose change.
Watch: how does weight affect your climbing speed?
So if you get a spare few minutes this weekend, clear out your saddle bag and make sure you've only got the essentials that will be enough to get your home in an emergency.
3. Use less bar tape
We're definitely into marginal gains territory now, but do you really need the whole of your bars covered in bar tape. It might look a bit odd, but if you don't ride with your hands on the top, then you don't really need to wrap the tape along here, and you could even go as far as only wrapping tape on the drops in the exact place where you actually hold them.
>>> The best handlebar tape, and how to wrap it (video)
Ok, you're going to struggle to cut more than 10-15g through this method, and you do risk compromising on comfort, but those few grams could make all the difference in a highly contested KOM contest.
4. Ditch the bottles
Now, we're not suggesting that you should go thirsty on your ride, after all dehydration is only going to slow you down, and can set in particularly quickly if you're riding in hot weather. However if you're just out for a couple of hours in March, when the temperature is hovering in the mid-teens, do you really need those two 750ml bottles?
>>> How to make your own energy and recovery drinks
Ditch one of them, and you'll be cutting at least 750g from the weight of your bike, the sort of saving which would cost thousands of pounds if you were going to do it through heading down to your local bike shop and buying a new frame.
If you want to take things even further then you could draw upon the questionable physics knowledge of Jacques Anquetil, who used to move his bottle from his bike to his jersey pokcet when climbing, reasoning that the weight of bike was more important than the weight of the rider.
5. Cut down on the cages
If you're only taking one bottle out on rides, then that second bottle cage is a bit redundant isn't it, doing nothing but sitting on your down tube, adding weight, and getting in the way of your massive calves.
>>> 10 best ways to make your bike more comfortable
Leave this at home and that's around 30-40g saved already, and if you want to take things even further, then getting ride of those bottle cage bolts we save a handful of grams too.
6. Get drilling
This definitely isn't recommended in these days of carbon frames and groupsets, but back when steel was most definitely real, many pros would whittle away the hours in their garden sheds pushing at the limits of their bikes structural integrity as they drilled holes in an attempt to save weight.
>>> 15 prime examples of badly botched bike maintenance
Saddles, handlebars and cranks were the usual targets, although the more dedicated would not think twice about dismantling a cassette to speckle it with holes, and even methodically go to work on a chain, putting a little shaft of light through either side of every single link.
7. Cut out the cake
But probably a better method than all of the above for going uphill, is to cut a few pounds from the big lump of flesh and bone that is puffing away in the pursuit of cutting a few seconds off a PB on the local hill climb.
Let's be honest, we's not all Chris Froome, and could all cut a few (kilo)grams of fat from our bellies, and that's going to be a lot more effective (and generally cheaper) than trying to scrape a few extra ounces off what is an already lightweight bike.
Thank you for reading 20 articles this month* Join now for unlimited access
Enjoy your first month for just £1 / $1 / €1
*Read 5 free articles per month without a subscription
Join now for unlimited access
Try first month for just £1 / $1 / €1