Is this the new 2017 Merida Reacto?
Vincenzo Nibali has been riding a new bike, but is it the new Merida Reacto?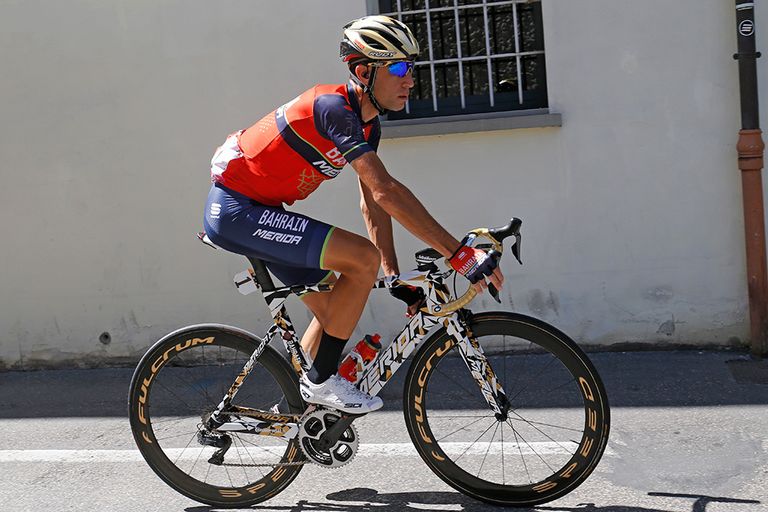 (Image credit: Yuzuru Sunada)
The Giro d'Italia has always been a hotspot for new or developing bikes, which are usually hard to spot, though this time it looks like Merida has lifted the lid on its updated Merida Reacto - likely to be launched later this year.
Stage 12 of the Giro d'Italia saw none other than Vincenzo Nibali, team leader of Bahrain-Merida for this year's 100th Giro, ride what looks to be a updated Merida Reacto.
We reviewed its predecessor - the Merida Reacto Team E - previously and comparing it with the updated version here, we can see that the Merida Reacto looks to be largely the same with a few small changes.
We can see that the same deep down tube remains with the rear brake hidden behind the bottom bracket. A small cut out for the rear wheel along the seat tube still remains and although the square and chunky rear triangle looks pretty similar it could be reduced in size and more rounded where it meets the seat tube.
Changes, however, are more prominent at the front of the bike. The head tube arguably looks beefier but keeps that depth from the previous model. Whilst it looks to have had a trim at the top of the head tube, aesthetically at least looks better.
Finally the fork looks deeper and is recessed into the frame a little more than the previously Merida Reacto model. This makes for a rather sexy bike, especially with that paint scheme.
Nibali is using a Vision integrated handlebar and stem that may not be included in the production model. He also has the new SRM crank and power meter along with Fulcrum Racing Speed wheels to complete the aero package.
Expect to see him mix his Giro, as he has done so far, with this aero bike and the lightweight climbing bike from Merida, the Scultura.