New Ironbridge Bikes are designed and built in the UK of British steel
Three steel framesets available at launch reflect classic British bike building heritage and style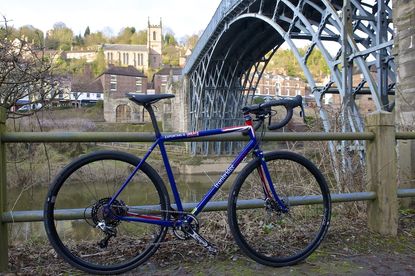 (Image credit: Robert Wade)
To be launched at Bespoked in Bristol on April 7 by Bicycles By Design, the new Ironbridge range is being made in collaboration with Swallow Cycles. The framesets will be made in the UK of British steel and sold frameset-only and as complete builds.
>>> Inside a custom frame builder's workshop
Ironbridge Bikes takes its inspiration from Ironbridge in Shropshire. The first ever iron bridge was built there in 1779, so Ironbridge Bicycles has a 1779 frame in its line-up. It's a fillet brazed model designed for gravel, touring or bikepacking use.
There's also the 1851. That's the date of the Great Exhibition and the bike is designed for gravel, cyclocross and road use.
Finally, the 1952's name marks the 1950s heyday of British bespoke steel frame building. It's also the telephone area code for Ironbridge. It's a fully lugged frameset which can be built for caliper or disc brakes.
Watch: Sturdy Cycles at Bespoked show 2015
Pete Bird and Robert Wade from Bicycles By Design commented: "It's so amazing to be launching a new brand, Ironbridge, drawing on our heritage & skills and aimed at the customer wanting a traditional but contemporary high quality hand-made British frame without the expense, involvement and waiting time of a bespoke frame.
"It is an exciting collaboration between ourselves and other small frame builders and industry partners to evolve a model of working to sustain our businesses post bike boom and post Brexit to access customers in the UK and export markets."
Ironbridge's framesets will cost between £1690 and £2250, with complete builds offered between £2900 and £5000. The range will be available in 15 size and colour options, with a lead time between 12 to 14 weeks from order.
Thank you for reading 20 articles this month* Join now for unlimited access
Enjoy your first month for just £1 / $1 / €1
*Read 5 free articles per month without a subscription
Join now for unlimited access
Try first month for just £1 / $1 / €1