Scott sends out warning about 'fake online stores'
Too good to be true deals are sweeping popular social media websites, but how can you tell if they are fraudulent or not? Scott gives out some tips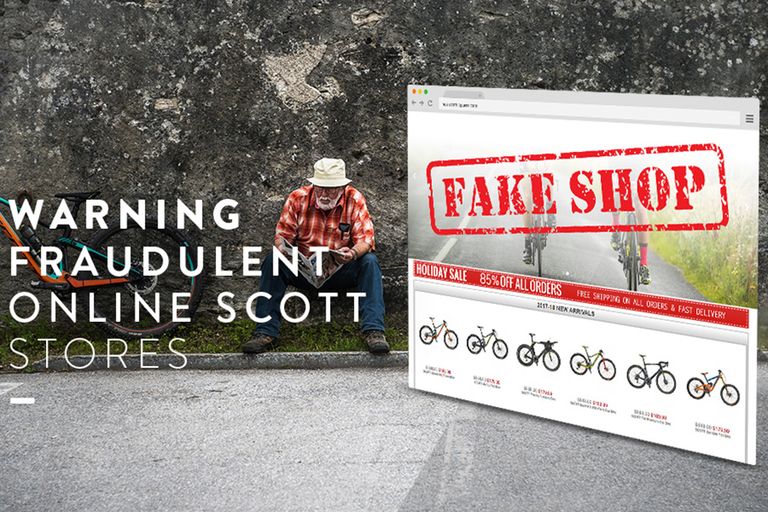 Fake online stores are ever increasing according to bike brand Scott, which is taking action against many fraudulent websites in order to protect its customers.
The latest drive from Scott is due to it seeing these types of fake online stores increasing at an alarming rate and with big social media channels like Facebook, Twitter and Instagram hosting a large number of sponsored ads, the risk is ever increasing to caught out by one these "too good to be true" deals.
These tpyes of fraudulent deals are nothing new and Scott says its been pursuing legal action for years now, but recent efforts have intensified.
"As an innovative brand, Scott is facing legal issues with product piracy and fake suppliers since quite a time. This is not something which is new at all," said Reto Aeschbacher, brand director of Scott.
"What is new indeed is the emerging number of well-organised online fake shops with a criminal intent luring consumers to fraudulent websites, which look quite authentic at first sight."
Scott now offers some online searching tips to ensure you don't fall foul of these dirty deals.
Firstly, check Scott's own website for up-to-date imagery and key visuals. All of Scott's official dealers will have this on their websites.
Typically, if a deal is too good to be true, it usually is, so avoid any '90 or 80 per cent off' sales as this will be totally unrealistic.
Another common telltale sign is that these fraudulent online websites tend to not offer any distinction between models and will quote a higher than recommended retail price to create the illusion of a far better deal.
Lastly, if your not totally sure, check out Scott's official website where you can find the Scott dealer locator tool, which will point you in the direct of your closest official Scott store.