SRAM releases dedicated aero HRD disc brake for time trials and triathlons
According to SRAM, disc brakes offer a whole world of better, more aerodynamic braking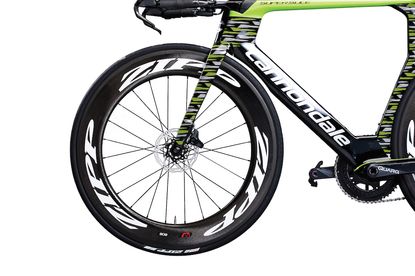 (Image credit: Ron Wu)
Conventional wisdom has always suggested that disc brakes are not as fast as rim brakes, whether that's aerodynamically or weight-wise, but SRAM looks set to turn conventional thinking on its head with its new SRAM S-900 Aero HRD disc brakes.
The company argues that disc brakes allow for the aerodynamic optimisation of the most important area of a bike frame – the fork, the crown and the head tube.
Thanks to the removal of mechanical brake callipers and the brake tract, tyre clearance can be reduced on aero bike frames, meaning less area for the wind to generate drag. Certainly this is what we've seen on recent aero models such as the 3T Strada aero bike.
>>> 2018 Trek Émonda: Wide tyres, disc brakes and a featherweight on the scales
In fact, the SRAM S-900 Aero HRD disc brakes are actually optimised for time trials and triathlons, as, according to the company better braking, and the resulting higher confidence, actually makes you faster.
Watch: eTap SRAM Hydro review
The aero brakes use SRAM's HydroT technology, which according to SRAM, offers "superior control, feel and heat management". Meanwhile SRAM's Stealth-a-majig tech (yes, its actual name) makes setup easy, according to the brand.
A key part of SRAM's argument for aero disc brakes is that easier brake actuation, which disc brakes do offer, means more confidence when on the bike. According to SRAM, you can also factor in easier wheelset changes and short braking distances, as well as more assured braking in grit, grime and nasty weather.
If the system were to become infected, it should be a relatively easy fix thanks to SRAM's Bleeding Edge technology, which the new aero brakes have.
The new brakes are flat mount only, and are available with both a 140mm and a 160mm Centreline X rotors. The full system RRPs at £235 whereas the rotor alone RRPs at £63.
Thank you for reading 10 articles this month* Join now for unlimited access
Enjoy your first month for just £1 / $1 / €1
*Read 5 free articles per month without a subscription
Join now for unlimited access
Try first month for just £1 / $1 / €1