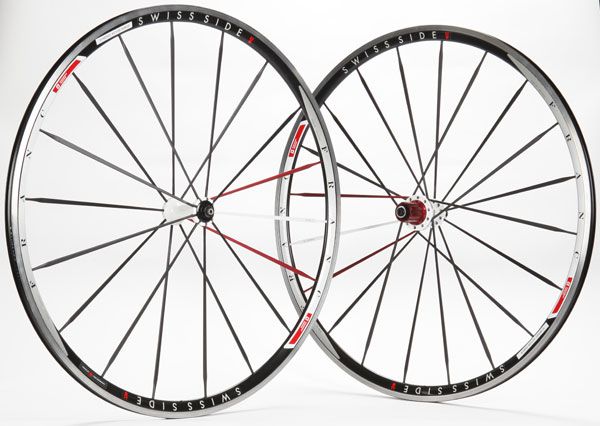 If someone were to ask you to define a Swiss product in general, you would probably conjure up words such as 'high end', 'quality', 'precision' and almost certainly 'expensive'. So if we were to say to you 'a lot of wheel for the wedge' you might think us mad.


In a world where it seems every man and his dog is selling reasonably priced alloy clincher wheel sets, usually an off the shelf, machine built pairing, Swiss Side has caught our attention and stood out from, lets face it, an overcrowded wheel market
As the brain child of a F1 lead engineer and an award winning sporting goods designer, Swiss Side has decided that its raison d'etre is about producing affordable quality. All mouth and no trousers - we think not. It's hit the ground running with its opening range of three wheel sets, all very competitively priced and hand built to boot. Ok, so hand built in Taiwan, but sign o'the times, aren't most things nowadays?
Package includes all the trimmings
Another ear pricking factor is that the wheels come as 'packages', complete with QR's, rim tape and sticker pack, ready to ride. The range topping Franc (pictured) also comes with wheel bags, spare spokes, adjustment key and wheel magnet.
With the upper two in the range also rolling with ceramic bearings, and both allegedly weighing less than 1540g for a pair; Swiss Side is going to be a force to reckon with. Especially when you see the prices.
With the Franc package holding a £585 price tag, which includes shipping, and the slightly heavier (1700g) entry level St Bernard wheel package for £219, there has got to be some better known wheel brands wincing at those prices. Or perhaps not; we not ridden a set yet. We'll let you know when we do.
Wheel packages:
Franc for £585 is a 27mm aluminium rim with sealed ceramic bearings and aero bladed spokes. 1533g for the pair, Shimano and Campag compatible.
Heidi is cheaper at £425. It's a shallow rim, but the same grade aluminum and ceramic bearings as the Franc. Ever so slightly heavier at 1539g and again Shimano and Campag compatible.
St Bernard is the entry level set for £219. Another 27mm aluminium rim, but this time just standard sealed bearing hub. Heaviest of the range at 1700g, and only Shimano compatible.
Contact: Synergy Action
Hub houses ceramic bearings
Swiss side, cheaper than you think