Could a textured brake track provide the ultimate stopping power? Campagnolo thinks so
Campagnolo reckons its new textured braking track could offer unrivalled performance in poor weather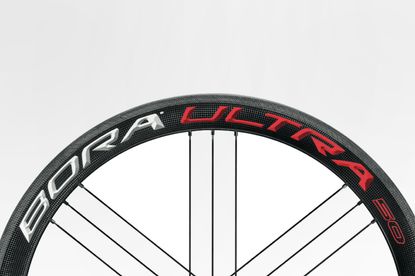 Campagnolo has released an updated version of the Bora Ultra wheel that now promises perfect braking regardless of the conditions, offering unrivalled carbon braking performance.
The All Conditions Carbon Control, or AC3 technology for short, promises "surefooted stopping power that is reliable and potent no matter the weather conditions".
>>> How to look after your disc brakes
According to Campag, the textured braking track has been researched, and found to improve performance in wet and inclement weather.
Basically, according to the Italians, the grooves in the track allow for rain and dirt to run off of the contact patch, away from the pads. The brand also says that plenty of work has been done inside the rim to improve matters, too.
Campagnolo recognised that the new braking surface would generate new forces, and to counter these it has supposedly reorientated the internal fibres,omething it believes guarantees greater integrity.
The whole AC3 principle, according to Campagnolo, has been brought about to benefit racers, to the extent that the brand believes the new textured surface increases performances 43% over other Campagnolo models. That's a whopping 55%, or so they claim, over its nearest competitor.
Watch: Buyer's guide to road bike wheels
It has been a busy couple of months for Campagnolo, who recently announced the released of its new disc brake groupset as well as an update to its Centaur groupset, taking it up to 11 speed. The new disc brake system included a whole line of disc brake specific wheels, including the Bora, Scirroco and others.
Wheel brands are currently hot on textured surfaces with Zipp just announcing a new roster of wheels, including both disc brakes and rim brakes. The real test, though, will be seeing how all of them perform in the wild, wet UK conditions.
In terms of the Campagnolo family tree, its AC3 technology will be found on the Bora 35, 50 and TT wheels, including both clincher and tubular versions.
Thank you for reading 20 articles this month* Join now for unlimited access
Enjoy your first month for just £1 / $1 / €1
*Read 5 free articles per month without a subscription
Join now for unlimited access
Try first month for just £1 / $1 / €1